Motorbikes are everywhere, even underwater … !!!
Mauritius is not only a land as it contains the most beautiful coral reefs and a real of Eden's garden underwater specifically an array of colorful fish. Indeed, scuba diving and jet skiing are both aquatic activities very touching and moving . The marriage between the said sports can generate a lot of intense feelings. This is exactly what offers  HydroBOB, BOB 
An underwater motorbike can descend to 3 meters deep, accompanied by professional divers in total security by explaining the simple handling of the latter.
Before its fun driving and take the adventure alone or in company, professionals will provide you with a wetsuit in order to feel comfortable and warm obviously ensuring your complete safety in the bottom of the water.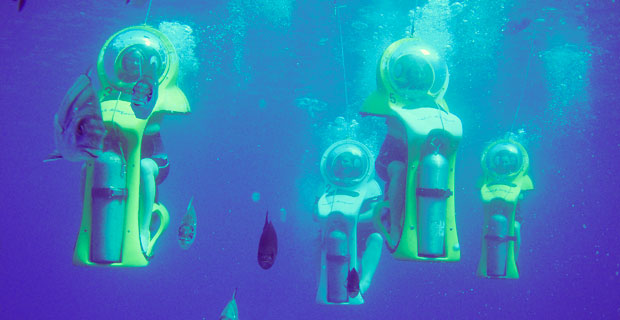 The handling of this motorbike is very easy. It contains a simple wheel to roll underwater, two accelerator pedals to move forward and a button to control the depth. Therefore, you can just press the button to go up or down directly on the surface.
This new invention allows the divers to discover the colorful seabed of Mauritius, to get into a wonderland and enjoy turquoise waters and exploring the coral reefs.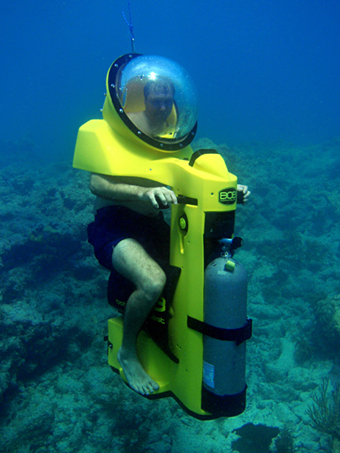 Better yet, drive his own scooter can only be a very good opportunity to fully appreciate an exceptional experience life underwater.
Sine qua non conditions necessary to exercise this activity such as the age factor; ie, it is a prerequisite that the participant has at least 8 years old to share experience with the team and over 16 years old to pilot the underwater scooter. Also, individuals must enjoy good health and good physical condition, suffering from any cardiovascular or respiratory problem. Moreover, this activity is not recommended for pregnant women neither for people who cannot dive and / or swimming.
A rare and unique experience in this wonderful part of the world and a very original entertainment savoring the pleasure of driving oneself its own underwater scooter.