Get over with the constraint of the selfie stick under the water to record your excursions!
Notilo +, a French company is launching on June 2017, the world's first underwater drone completely autonomous and able to follow the diver down to 60m depth, iBubble.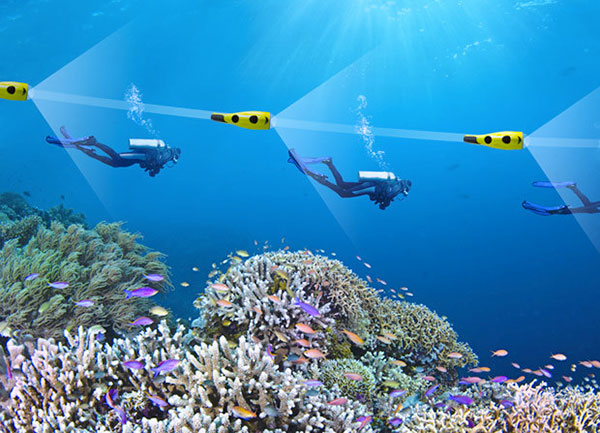 A scuba diver followed by his underwater drone iBubble.
The Underwater Drone
We knew already about the aerial drones, a must-have accessory for all the extreme sportspeople which permits to record impressive video clips but today scuba diving, free diving and snorkeling enthusiasts will have the possibility to be accompanied in their explorations by an underwater drone autonomous and intelligent called iBubble which follows and record the diver through the GoPro® incorporated in the device.
The project has already benefited from a crowd funding campaign on Indiegogo which in less than a month had already reach 266% of the required amount to launch the industrial process of manufacturing but also the support of a world class ambassador Guillaume Néry, quadruple Free diving world champion.
The price of the iBubble will be between 1700 and 2600 euros depending on the model.
iBubble Characteristics
Enjoy your dive, without constraints
The underwater drone is completely autonomous during one hour wich permits on covering most of the dives.
5kg to avoid overloading divers.
Profesionals camera angles with an auto-framing system.
Bracelet to select filming mode: Follow Mode, 360° Mode, Manual Mode.

Two 1000 lumens lights to lighten the way.
Eco Friendly
1% for the Planet® project to donate 1% turnover to protect the environment.
100% quiet to avoid disturbing wild life.
Avoids obstacles to prevent hurting fragile ecosystems
Explore before you dive
Remote control to guide directly from the boat.
100m waterproof cable
Live Video Feedback to see what's under the boat.
Where to use it?
This underwater drone can be used in any activity that provides SSS Phuket.
For example, it could be your Scuba Diving partner in an excursion on the beautiful island of Koh Phi Phi.
The underwater drone can also follow you in an activity of snorkeling on the virgins Similian Islands.