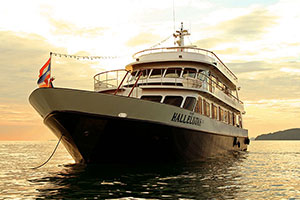 ---
Length (m) : 35
Width (m) : 7.6
Maximum Guests : 25
No. of Cabins : 13

1 single
2 doubles
10 twin

No. of Bathrooms : 14
Max Speed (Knots) : 12
Nitrox on Board : Yes
Enjoy the Similan Islands aboard the Hallelujah Liveaboard
---
Hallelujah Similan Liveaboard  can take on board a maximum of 25 guests and has 10 twin bunk, 2 larger double cabins and 1 VIP single Cabin.
All the cabins have big windows, doors to the walkway outside, bathrooms and air-conditioned. There is a lot of space on the boat with a large indoor air-conditioned saloon and a big sun deck.
Two large dinghies are used for diving and allowed divers to be dropped right on the dive site while the Hallelujah Similan stays away from the reefs. The dive deck is extremely spacious and well organized.
If you are travelling with non-divers, they can do snorkeling or sign it for their Open Water course which can be completed on the trip. There is also Nitrox available for certified divers.
Hallelujah Liveaboard : Prices
5 days/ 4 nights : 14 dives
VIP Single Cabin 

Double Cabin :

Twin Cabin :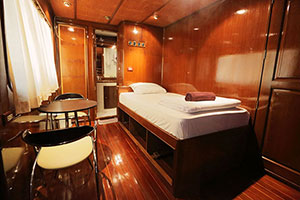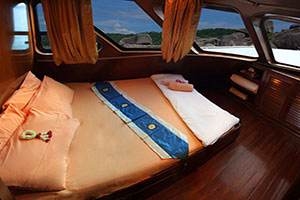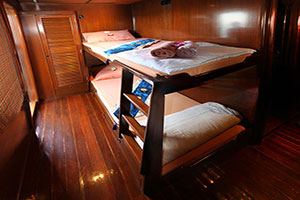 Transfers to and from your accomodation on Phuket Island. (Other areas upon request)

Full-board accomodation onboard

All meals served onboard including soft drinks, fresh water, tea and coffee

Professional diving guide

Scuba tanks, weights and weights belts
Hallelujah Liveaboard : Itinerary
1st day

Pick up in the afternoon around 3pm in Phuket.
Transfer to the Hallelujah Liveaboard at Thap Lamu.
Cruise to Similan Islands.
Dinner is served on board.

2nd day - 3th days : Diving days

4 dives per day
(exact intinerary varies)

Arrival Day

2 dives
Return to Thap Lamu.
Transfert to Phuket, arriving about 4-5 pm
If you stay in Khao Lak, pick up will be about 5:30 – 6 pm.
Dive sites and exact itinerary are decided en route based on currents, weather, customer choice, big fish sightings etc.
A typical 5 days / 4 nights trip includes the Similan Islands, Richelieu Rock, Koh Tachai and Koh Bon.
Hallelujah Liveaboard : Schedule
| | | |
| --- | --- | --- |
| Departure | Return | Duration |
| 15 Oct 19 | 19 Oct 19 | 5D/4N |
| 22 Oct 19 | 26 Oct 19 | 5D/4N |
| 28 Oct 19 | 01 Nov 19 | 5D/4N |
| 03 Nov 19 | 07 Nov 19 | 5D/4N |
| 09 Nov 19 | 13 Nov 19 | 5D/4N |
| 15 Nov 19 | 19 Nov 19 | 5D/4N |
| 21 Nov 19 | 25 Nov 19 | 5D/4N |
| 27 Nov 19 | 01 Dec 19 | 5D/4N |
| 02 Dec 19 | 06 Dec 19 | 5D/4N |
| 07 Dec 19 | 11 Dec 19 | 5D/4N |
| 14 Dec 19 | 18 Dec 19 | 5D/4N |
| 19 Dec 19 | 23 Dec 19 | 5D/4N |
| 24 Dec 19 | 28 Dec 19 | 5D/4N |
| 29 Dec 19 | 02 Jan 20 | 5D/4N |
| 04 Jan 20 | 08 Jan 20 | 5D/4N |
| 09 Jan 20 | 13 Jan 20 | 5D/4N |
| 15 Jan 20 | 19 Jan 20 | 5D/4N |
| 20 Jan 20 | 24 Jan 20 | 5D/4N |
| 25 Jan 20 | 29 Jan 20 | 5D/4N |
| 30 Jan 20 | 03 Feb 20 | 5D/4N |
| 04 Feb 20 | 08 Feb 20 | 5D/4N |
| 10 Feb 20 | 14 Feb 20 | 5D/4N |
| 15 Feb 20 | 19 Feb 20 | 5D/4N |
| 20 Feb 20 | 24 Feb 20 | 5D/4N |
| 25 Feb 20 | 29 Feb 20 | 5D/4N |
| 02 Mar 20 | 06 Mar 20 | 5D/4N |
| 07 Mar 20 | 11 Mar 20 | 5D/4N |
| 07 Mar 20 | 11 Mar 20 | 5D/4N |
Departure

Return

Duration

13 Mar 20

17 Mar 20

5D/4N

18 Mar 20

22 Mar 20

5D/4N

23 Mar 20

27 Mar 20

5D/4N

28 Mar 20

01 Apr 20

5D/4N

03 Apr 20

07 Apr 20

5D/4N

08 Apr 20

12 Apr 20

5D/4N

14 Apr 20

18 Apr 20

5D/4N

19 Apr 20

23 Apr 20

5D/4N

24 Apr 20

28 Apr 20

5D/4N

---

For further information, please contact us with the following form. We will contact you as soon as possible with the required informations.

---