The Songkran Festival (Thaï New Year) is one of the most popular celebrations in Thailand. This year, the event will be celebrated from the 13th April to the 17th April. During one of the hottest month in Thailand. Also called "the Water Festival". Thai people used to celebrate the Songkran festival by spraying other people with water guns. Water symbolizes "cleansing" and "rejuvenating". Natives throw water on people to wash all the misfortunes and struggles of the previous year. To refresh everything for the brand new year. The Songkran festival is a time where 'joy' and 'good mood' are a must. However, the event is a bit more than just spraying people. In fact, it commemorates old values. It is as a symbol of hospitality and love, and the importance of maintaining strong relationships within families, communities, and society as a whole.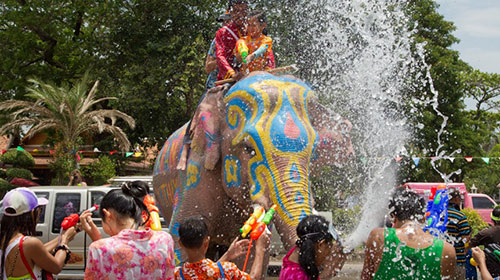 Songkran festival, the happiest celebration in Thailand
For the occasion, the Thai government established few public holidays all over the country. Nobody is working especially in Phuket.  The Songkran festival is especially a religious celebration. People used to make merit and listen to temple sermons to gain blessings.
Additionally, Thai people purify the Buddha or other statues by pouring water on it. The tradition wants them to give alms to the monks during the few days of the Songkran Festival. The event is celebrated all over the country. Various festivities are organized, depending on the city.
The Songkran festival is really appreciated by children. They  can enjoy water fights and sand pagodas construction. Children used to show their respect to old people by pouring fragrant water on their hands, and by offering prayers for them. The meaning of community is also embodied by a special "cleaning day"; held in homes, towns and villages nationwide.
For foreigners as well as for native people, the Songkran Festival is one of the funniest days in Thailand!
The SSS Phuket team will be present with water gun to spraying you!
Therefore do not miss it!