Located off the south of Racha Yai is where you can find an uninhabited wild island Racha Noi. This island is accessible to divers of different levels as it is where you have the one of the best visibility among the different islands of Phuket, come in Racha Noi divinng.
Dive everyday at the best dive sites in Phuket of your choice ! All year round, we can plan and personalize your dive trips according to your travel plans
Racha Yai
|
Racha Noi
|
King Cruiser
|
Koh Phi Ph

i
Price I Booking
Racha Noi Day trip
฿3 900
3 Dives
Scuba Equipment
Breakfast and lunch
Snacks, Fresh Water
Taxi Transfers (Chalong, Kata, Karon, Patong) and Insurance
Book Now
Booking

Our customer review on this activity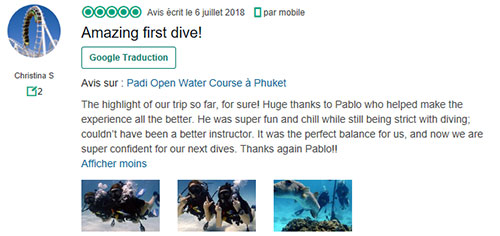 Day Trip Itinerary | Racha Noi
Koh Racha Noi
7:30 am – Meeting at your hotel
8:00 am – 10:00 am – Make your way to Racha Noi
12pm – Hot buffet lunch served on board.
14:30 pm – Rest and relax.
16:30 pm – Back to Chalong Pier
17:00 pm – Return to Hotel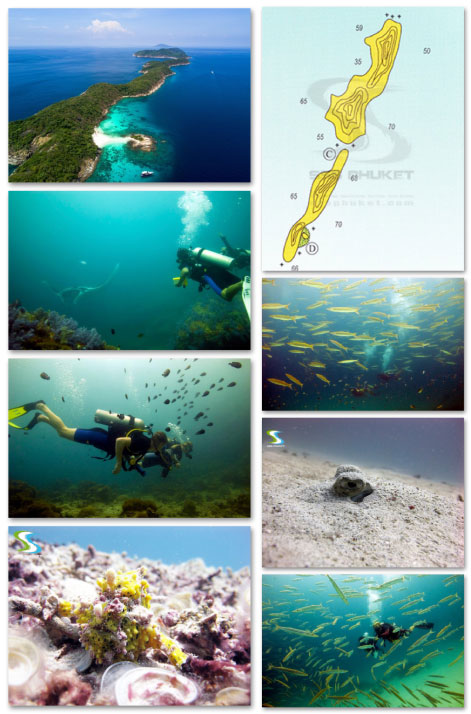 The main features of Racha Noi are the hard coral reef and the large granite boulders. The marine life is very diversified in Racha Noi. Encounters with Manta rays and leopard Sharks are frequent. Dive sites are catered for beginner levels as advanced. The houses a large variety of marine life which includes tuna , Barracudas and stingrays that rest on the reef amidst some impressive rock formations.
Be ready to catch them in action and watch them gracefully flap their fins in the clear pristine waters. If you are lucky, you would be able to also catch a glimpse of the whale shark feeding, filling up their large mouths with plankton. This would be a one in a life time experience. In addition to the highlights, Racha Noi also welcomes schools of Tuna and Barracudas which are bold and can swim close to divers.
If you are you looking for a picturesque dive, you would be very satisfied by the colorful coral that you would be able to find in Racha Noi.
Many dive sites are catered for beginner to advanced levels. For more experienced divers, you would be able to engage in the exploration of the southern part of the island as strong currents may be experienced and thus may be challenging for new divers. Racha Noi can be one of the best places to start your scuba diving adventure with the shallow bays that can be found.
In addition to the beauty of the island, the shipwrecks have also made its reputation in Racha Noi. There are a total of 4 shipwrecks located on the eastern side of the island. Wreck diving at Racha Noi is offered to divers of different levels so be ready to discover something original !
Why Us ? / Why Phuket ?
Great Underwater Visibility

Hard colorful corals, shipwrecks, marine life observation

Dive Site Depth

3 dives in sites with 40 meters depth

Difficulty

Easy, for everyone
What to Bring ?
– Beach towel
– Swimwear
– Camera
– Shorts & light T-Shirt
– Cap/Hat
– Sun glasses
– Sunblock
Koh Racha Noï Highlights:
Depth: 5 – 60 m.
Visibility: 15 – 40 m.
Currents: Easy to moderate.
Water temperature: 27-30 ° C.
Experience Level: Beginner – Intermediate.
Diving Season: All year.