Phuket Freedive Training | For Certified Freedivers - Swimming pool to the day trip diving boat
---
Phuket Freedive training and day trips are available all year round. The pool sessions complimented with a sea-view is an excellent place for static apnea sessions and open water sessions are a few minutes away from the beach. For deeper dives, a longtail would take you out to locate the required depth. It would literally be a breath-taking experience leaving you wanting for more.
Moreover, if you want to keep improving your freediving skills, you can check our courses AIDA.
Check our SSS Phuket instagram for a preview of our daily activities.
Program Summary
Come to discover this amazing Phuket Freedive Training experience, combining:
> The pleasure of diving,  being underwater, you can discover and see a lot of marine life.  Being able to stay longer underwater while freediving, it is obvious that you will see more !
> Serenity, Phuket Freediving Training is one of the most relaxing sport in the world. You are surrounded by a vast quiet environment. Being in suspension is really relaxing. and this discipline is known to be one of the best experience in the world. In fact you have the sensation of flying in the water.
> Skills, our Phuket Freediving training will provide you all the necessary skills to be able to master breathing techniques. You will never approach snorkeling activities the same as you used to do.
Give it a try, you will never forget this experience.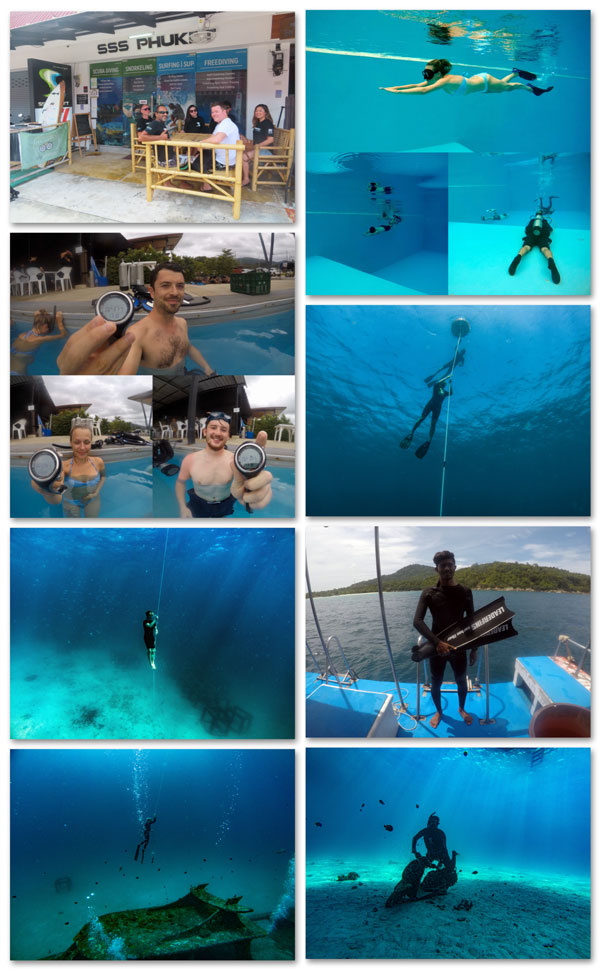 Confined water training
8:30am – Appointment at SSS Phuket
9:00-12:00am – Theory courses
1:00-3:00pm – Training static or dynamic apnea or both in a swimmingpool
Open water training
7:30am – Pick up at the hotel and transfer to Chalong Pier
9:00am – Welcome aboard! Breakfast is provided on the way
10:00am – First Training Dive constant weight !
12:00am – Hot buffet lunch on board. After lunch there is time for snorkeling and sun bathing
1:00pm – Second Training Dive constant weight
3:00pm – Rest and Relax. Enjoy fresh tropical fruit and soft drinks on the way back to Chalong pier
3:30pm – Back to Chalong Pier and return to hotel
1 Day
Swimming Pool Training
Booking and Payment | Phuket Freedive Training
---

Our customer review on this activity

Freediving Training Vocabulary
CONSTANT WEIGHT
This discipline is the most popular of the freediving training disciplines. The diver simply swims down the line using fins or monofin. He is allowed to touch the line only at the bottom of the line to initiate his swim back. Why « constant weight » ? Simply because the weight the diver decides to wear, needs to come back to the surface ! Unlike in the variable weight discipline, described below.
CONSTANT WEIGHT NO FINS
The same rules apply to this very pure but difficult freediving training discipline. There are no change of weights: no touching of the line except to initiate the turn. On top of that, the diver is not allowed to wear any propulsive equipment ! He can't use fins or monofins. The purest of all free dives : just the sea and your body !
FREE IMMERSION
When learning the sport of breath-hold diving, this is the best freediving training discipline to start with. The diver pulls himself down and up the line without the help of fins. This is a very relaxing discipline because there is no need to concentrate on kicking or swimming technique. This Free immersion discipline is the best one for beginners!
VARIABLE WEIGHT
Variable weight is the exact opposite as the constant weight discipline described above. The weight the diver takes down is left on the bottom to make the return with fins or on the line easier. Usually free divers sit on a weighted sled that pulls them down before the swim back.
NO-LIMITS
The words NO-LIMITS mean everything : Do whatever you want to get down and back ! In this « extreme » discipline of freediving training the diver sits on a weighted sled to be pulled under and heads back to the surface with an inflated lift bag or any other device.
DYNAMIC NO FINS
Everyone has certainly tried to swim as far as possible under the water in the swimming pool. This is exactly what dynamic no fins is ! Covering the longest possible horizontal distance without the use of fins on a single breath.
DYNAMIC
For this discipline, the freediver wears fins or monofin and covers the longest possible horizontal distance whilst holding the breath.
STATIC
Static is considered as the most challenging disciple mentally speaking. The diver holds his breath as long as possible without moving with his airways submerged. For beginners, static may be tricky because you « don't do anything ». But once some experience is acquired, this is actually a very relaxing way to practice the sport of freediving training.
Do not hesitate to contact us should you have any questions. SSS Phuket Staff would be happy to give you all the essential information you may need for an unforgettable freediving experience. Visit us at our dive shop from 8am-8pm, 7 days a week. Looking forward to see and hear from you soon !
5 reasons to choose SSS Phuket for Free Diving
1. An effective method of teaching

For every SSS Phuket instructor, the commitment is to adapt properly the course according to the diver student. We begin with a personal approach in pool, in order to establish together the goals to reach and the needs of everyone.

2. Competitive prices

Choosing SSS Phuket is choosing the cheapest way to explore the underwater world. For example, the AIDA course 2 Star is open to you for only ฿9,700! Of course everything is included in the price. By this way, whether you are a beginner or already experienced, you can enjoy Free Diving at low prices!

3. Free Diving at Racha Yai Island

You are on holidays, and you want to take advantage of being in Phuket to freedive in the most beautiful diving sites? With SSS Phuket you have the possibility to make your an open water freedive in Racha Yai! This island is well-known and appreciated by everyone who dived there. It's up to you to join this community.

4. Stand up Paddle and Free Diving combined

What about combining Stand up Paddle with your Free Diving course? We are the first to offer you this possibility. You can start your day with a paddle session, starting from Kata beach. Then you will reach Koh Pu island and on the way back you will freedive at Kata Reef!

5. Support Coral Reef Creation project

At last but not least, choosing us for your Free Diving experience is being eco-friendly. Indeed, SSS Phuket supports a current project which aims to protect the corals of Kata. We invite all free divers to discover and understand our program. Choosing SSS Phuket is definitely supporting the Coral Reef Creation Project.
Continuing Education
The possibilities for the continuation of Freediving Training are :