P ADI Enriched Air Diver is very popular because you stay down longer and you get back in the water quicker. During repetitive scuba dives, decompression time will be rare thanks to enriched air. If it sounds good to you, sign up for this specialty!
Price I Booking
Enriched Air Diver Specialty
฿9 900
Enriched Air Diver Specialty License
Enriched Air Diver Specialty Manuel and Dive Table
Rental of a full set of scuba diving equipment
Instructor (max.4 students to 1 instructor)
2 dives to a maximum depth of 30 meters
Taxi boat transfers
Breakfast & Lunch
Snacks, drinks and fresh fruits all day
Book Now
Booking

Days Trip Itinerary I Enriched Air Diver
Koh Phi Phi
7:30 am – Meeting at your hotel
8:00 am – 9:00 am – Make your way to Koh Phi Phi
9:30 am – First dive at Koh Bida Nok
10:30 am – One hour surface interval
11:30 am – Second dive at Palong Wall
12:30 pm – Hot buffet lunch served on board. Time for some snorkeling and sun bathing after lunch.
13:45 pm – Third dive on Koh Dok Mai
16:00 pm – Return to Hotel
Visited Islands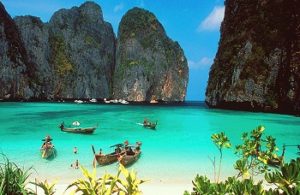 Phi Phi islands have one of the most spectacular landscape where the vertical cliffs of Thailand are the backdrop of the beautiful beaches. These islands became even more renowned when Danny Boyle filmed the movie " The Beach" starring Leonardo Di Caprioin 1998.
Koh Phi Phi Don, the bigger of the two islands is where you would be able to find numerous backpackers inn, guesthouses and hotels. Phi Phi Le is the smaller island where there is a national park.
In fact, there are two smaller islands, namely, Koh Bida Nok and Koh Bida Nai next to Koh Phi Phi Le towards the south. They are limestone rocks where you can find an outstanding variety of marine life.
Why Us ? / Why Phuket ?
Great Underwater Visibility

Hard colorful corals, shipwrecks, marine life observation (turtles)

Dive Site Depth - 18 PGM Maximum Depth

5 dives in sites with 40 meters depth

Difficulty

Easy, for everyone who is at least 10 years old
Continuing Education
The possibilities to continue Enriched Air Diver Specialty are: