T
he PADI Freediver Phuket : the second level of the freediving course in the PADI Methodology.
Continuing from the first level, you would have managed static apnea that lasts 90 seconds and 25m for dynamic apnea.
Now, the target for the PADI Freediver Phuket Course would be to complete these objective with an additional challenge : to dive to the depth of 10 meters.
Discover the ocean in a different way thanks to PADI Freediver Phuket !

PADI Freediver Phuket Level 2
PADI Freediver
฿9900
PADI Instructor Fee
PADI Freediver License
PADI Freediver Manual & PADI recreational dive tables
2 Dives to a maximum of 18m
Freediving Equipment
Breakfast
Lunch
Snack, Fresh water
Boat Trip Transfers (Chalong/Kata/Karon/Patong)
Insurance
PADI Certificate
Book Now
Day Trip Itinerary
3 Days Course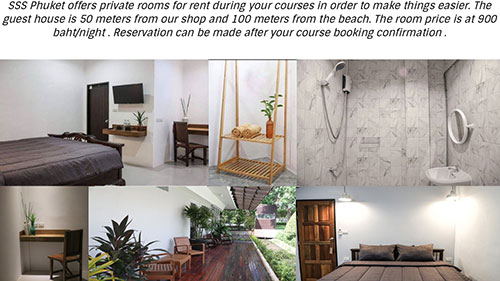 PADI Freediver Phuket | Booking

Days Trip Itinerary
DAY 1 :
8:30 am - 16:00 pm – Meeting point at Kata Big Rock Swimming Pool. Theory and practical session with your Freediving instructor at the pool.
DAY 2 : Kata Beach
 9:00 am - 13:00 pm – Meeting at SSS Phuket. We will make our way to Kata reef in order to make your open water training.
DAY 3 : Racha Yai
7:30 am – Pick up at your hotel
8:00 am – Welcome aboard! Make your way to Racha Island with breakfast on board
11:30 am – Hot buffet lunch served on board. Time for some snorkeling and sun bathing after lunch.
14:30 pm – Rest and relax. Enjoy fresh tropical fruit and soft drinks on the way back to Chalong pier
4:00 pm – Transfer back to hotel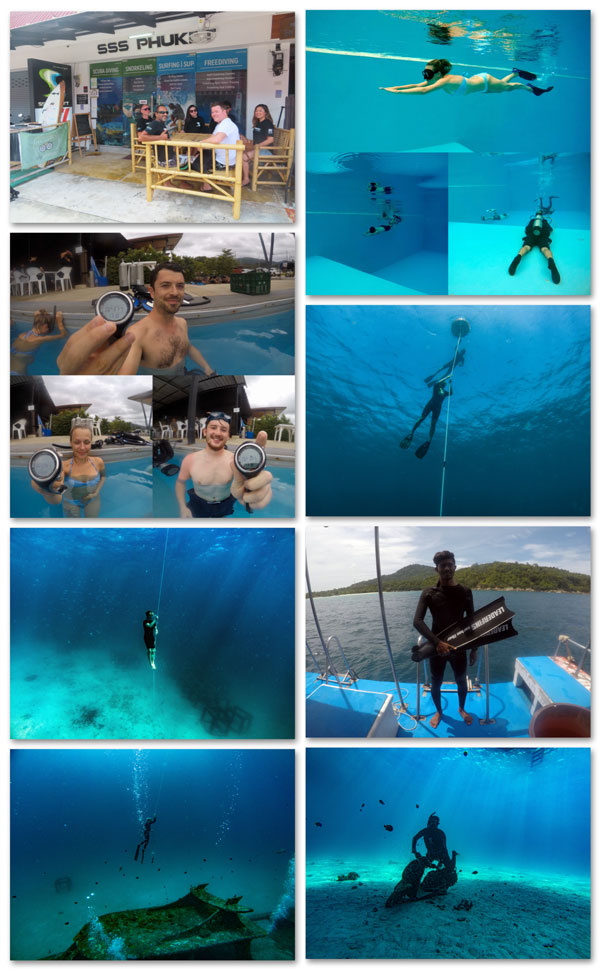 Visited Islands
Koh Racha Yai, is the largest of the two islands located off the Southeastern coast of Phuket.
Different kinds of corals can be spotted here with the Staghorn coral predominating in many areas. Marine life is rich and species such as Barracuda, Tuna and Milk Fish can be found in this area.
The better place for diving is located on the East coast along the hard coral reef where there are shipwrecks and good drifts.
There are several interesting dive sites around Koh Racha Yai including Lucy's Reef, Reef "Do little Do" where Stonefish and Batfish may be chanced upon. Not forgetting Marla's mystery, a wreck that became home to Morays, Groupers and Lionfish.
Why Us ? / Why Phuket ?
Amazing Pool Facilities

Very big and quiet pool on Kata Hill

Experienced Freediving Teachers

They have a many years of teaching, professional and fun!

The Very First and Genuine Freediving Center in Phuket

More than a decade of freediving training in Phuket
PADI Freediver Phuket
Discover the physics of freediving
During free diving course, you will experience physicals conditions that affects your body. Indeed, when you dive, a plenty of phenomenon activate in your body. You will learn what's happening, how to appreciate it and how to avoid risks and dive better
> Feel the pressure
You won't have to dive too deep to feel the pressure but the deeper you go, the better your will feel the pressure. At 10m deep, the pressure is 1 bar ata, it means that your feel twice as much pressure than when you're out of the water. Every 10m deep, you add 1 bar, as at 30m deep you would feel 4 atmospheres!
- Why do we care about pressure? Pressure doesn't affect liquid but it can compress gas, that is one of the reason why we « feel »pressure. The gas volume reduces of one half at 10meters deep. As the gas volume reduces inversely and proportionally to the pressure, it means that i twill be one third of is size at 20m deep and keep going.
The body is almost fully composed of water, as it doesnt compress, you will feel the pressure where you have air spaces in your body (ears, lungs, mask, wet suit…). During the freediving course, you will learn how to keep these air space in balance with the surrounded pressure, and manage to dive deeper without feeling pain because of the pressure.
About your senses
First of all, depth affects your sight. The first way it does it is because of the water reflexion that bend light rays, that phenomenon is even stronger when you go deeper. The second reason why your sight is affected is because depth absorb the light rays, as your perception of colours is very different, as it disappears. Very relaxing for your brain even if he still makes the difference because a compensation response.
The second effect on your senses is about earing. You have already noticed that sound is different underwater. Depth is a very quiet world; you may can hear your own heartbeat. In the water, the sound travels faster than in air. It makes things sound much more closer than they are. As the sound reaches your both ears at same time, you can't determine where does the sound come from. As when you hear a sound, it sounds like being all around you!
About feeling of temperature
In the water, heat is absorbing faster than air. So you have to control your body temperature wearing a wet suit to stay comfortable during an extended period. During free diver course, you will also learn how to choose the right wet suit, the one that could make you stay in the water indefinitely.
About orientation
Buoyancy reduces your perception of gravity, that is why you may be disoriented. Where is up? Where is Down? You will learn how to maintain you orientation visually.
With this course, you would be put into practise the different techniques that you have learnt in level one and of course to refine it. The big step towards real diving in apnea!
Continuing Education
The next steps to continue after the PADI Freediver course are :