S

Cuba Diving Kata Beach

brings out the best of Kata Beach where you would be able to experience the rich diversity that can be found in this area.

Located a few kilometers from the famous Patong Beach, Kata has nothing to envy it.

So diving in Thailand is recommended for those who love big fish and underwater environments indeed the beach of Kata is often considered as one of the most beautiful beaches in Phuket which offers opportunities for beach diving without the hassle of travelling too far out from Phuket itself. Consequently discover the flora and fauna at Kata Beach , one the most wonderful places in Phuket with our packages available for everyone.

Choose your Option below !
Scuba Diving Kata Beach Options
Fun Diving
฿1400
Dive with one of our pro/friendly Instructor
Diving Equipment
Book Now
Certified Divers
Discover Scuba Diving
฿1800
Dive with one of our pro/friendly Instructor
Diving Equipment
Book Now
Beginners
Night Diving
฿1500
Dive with one of our pro/friendly Instructor
Diving Equipement
Book Now
Certified Divers
Included In Each Option | Scuba Diving Kata Beach
INCLUDED
Diving Equipement

f

f

1 hour dive to a maximum of 12m
Transfert from SSS Phuket to Kata Beach
Diving insurance

Kata Beach scuba

f

Private Guide

Scuba Diving Kata

f

Night Light (Applicable for night Dives)

f

Scuba Diving Kata Beach
Booking Scuba Diving Kata Beach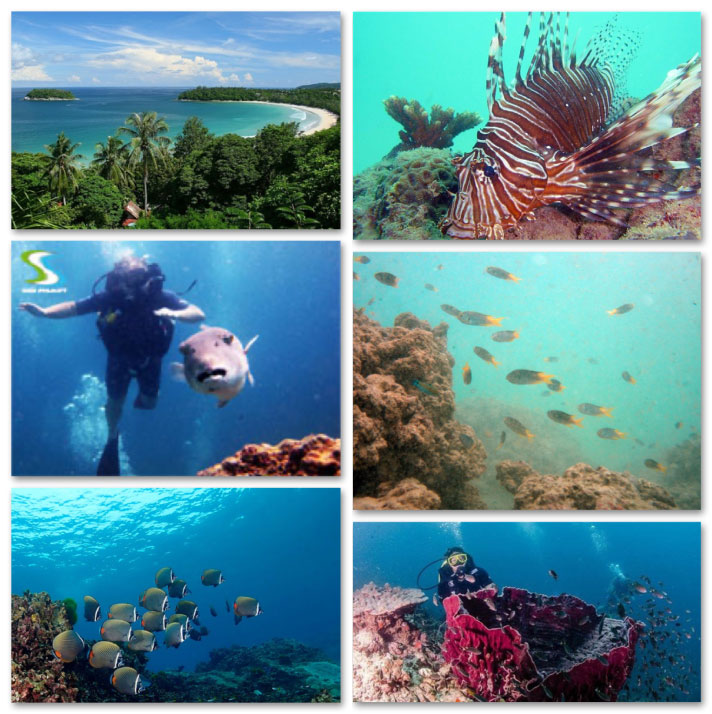 Our customer review on this activity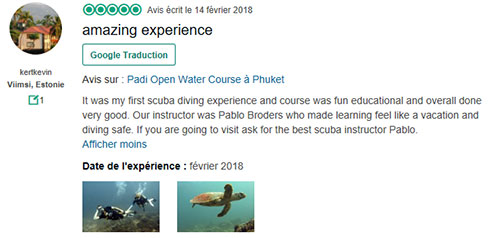 Days Trip Itinerary | Scuba Diving Kata Beach
Meet us at SSS Phuket Dive Center or let us know if you need pick up at Kata/Karon beach
Briefing/equipment set up
Dive at Kata Reef
Back to SSS Phuket for a drink and debrief with the team
Available between  8 AM and 5 PM
Beach | Island
Perfect for practicing the scuba diving, Kata Beach is an exceptional place to stay .
Although its location is ideal for many water activities, Kata Beach is one of the few unspoiled beaches in the south of Phuket Island.
The beauty of  its white sand and its fantastic view make it even more graceful and beautiful than it is by its nature.
But the benefits of this beach are far from being only due to the clarity of its water.
Many local restaurants line the sea, making it a favorite destination for lovers of tranquility and Thai food. Its nearby jungle allows for a natural atmosphere, both in the water and on land.
Kata Beach is perfect for families
Why SSS Phuket ? Why Kata ?
Diversified Marine Life

The different forms of coral illuminate the seabed by their colors, a wide variety of marine species can be seen (turtles, sharks, moray etc …)

Dive Site Depth - 12 Meter Maximum Depth

The two dive sites can reach several meters deep for the happiness of all.

Difficulty

Easy, for everyone who is at least 10 years old
Scuba Diving Kata Beach Program
Scuba Diving Kata Beach
Learning the proper techniques to scuba diving and learn to breathe underwater for the first time. During your diving session, you would have 2 dives at local dive sites under the supervision of one of SSS Phuket Instructor. Most importantly, indulge in the beauty of the aquatic world, discover a whole new world and let it blow you away.
Although the average dive on the edge of Kata Beach is around 12 meters deep, visibility can reach up to 20 meters!
But the real advantage that Kata Beach offers you is nothing more than its incredible live fish!
Manta Ray, Leopard, Blue-spotted Stingray, Common Stingray, White-tipped Sharks, Clawfish, Napoleon Fish, Long-snouted Warbler, Java Rabbit Fish, Great Idol Moorish Chessboard and many others may specimens to be seen!
Continuing Education
The possibilities for the continuation of Scuba Diving in Kata course are :
Get your Open Water Phuket first level today !

The Open Water Diver certification is the ticket for a lifetime of leisure diving adventures.

 The Open Water Diver License is very popular in the world today.
SSS Phuket

 

offers you the possibility to enjoy

 

scuba diving

 

in Phuket for pleasure or to attain the various

levels

. We also organize

 

day trips

 

and

 

liveaboard

.