S

cuba Diving Kata Beach is the fastest way to dive in Phuket. The reef is situated right next to the beach.
Beginners to experienced divers, everyone will be amazed by Kata reef biodiversity.
Note that the right season for Kata beach diving is from November to April, the sea must be calm.
✔️
 

1 Long dive

 

to 12 meters max depth (1  hour t0 1h15min dive)
✔️ For Everyone
 

(No need to be a skilled swimmer, minimum 10 years old)
✔️ Low Price
with equipment included
> Scuba Diving Kata Beach Options
Fun Diving
฿1400


Dive with one of our pro/friendly Instructor


Diving Equipment


Certified Divers
Discover Scuba Diving
฿1800


Dive with one of our pro/friendly Instructor


Diving Equipment


Beginners
Night Diving
฿1500


Dive with one of our pro/friendly Instructor


Diving Equipement


Book Now
Certified Divers
> Included In Each Option | Scuba Diving Kata Beach
INCLUDED


Diving Equipment

f



1 h/1h15min dive to a maximum of 12m


Transfer from SSS Phuket to Kata Beach


Diving insurance

Kata Beach scuba

f



Private Guide

Scuba Diving Kata

f



Night Light (Applicable for night Dives)

f

Scuba Diving Kata Beach
> Booking | Scuba Diving Kata Beach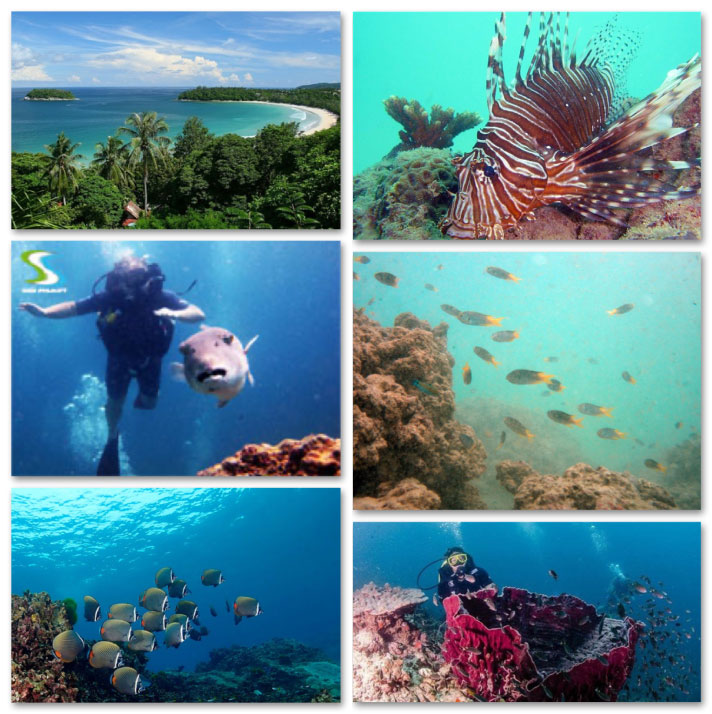 > Our customer review on this activity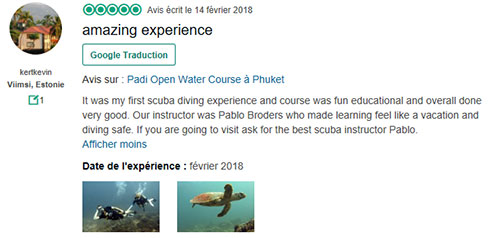 > Days Trip Itinerary | Scuba Diving Kata Beach
Meet us at SSS Phuket Dive Center or let us know if you need pick up at Kata/Karon beach
Briefing/equipment set up
Dive at Kata Reef
Back to SSS Phuket for a drink and debrief with the team
Available between  8 AM and 5 PM
> Kata Beach | Koh Phu
Perfect for family and group of friends 👨‍👩‍👧‍👧, Kata Beach is an exceptional place to stay in Phuket.
Although its location is ideal for many water activities 💦, Kata Beach is one of the few unspoiled beaches in the south of Phuket Island.
The beauty of  its white sand and its fantastic view 🔭 makes it even more graceful and beautiful than it is by its nature.
Kata Beach hosts the biggest reef in Phuket starting from the beach to ends at Koh Phu 🦀 (crab island).
The reef itself is pretty shallow (2 to 12 meters) makes it ideal for snorkeling and "relaxing" diving. Kata Reef is dense and you will meet a lot of marine life 🐠 such as giant puffer fish 🐡, barracudas, scorpion fish to name but a few.
There are two resident turtles 🐢 that can be seen. Even if the reef is very near the beach, you will see an incredible variety of fauna and flora. Macro lovers 🔬 will be delighted as nudibranches are a common sight.
Night diving 🌃 is great at Kata Reef where you will have a good chance to see big lobsters 🦞 and red crabs 🦀 as well as cuttlefish 🦑 and octopuses 🐙.
Last but not least, many local restaurants line the sea, making it a favorite destination for lovers of tranquility and Thai food 🌶️🍽️. Its nearby jungle allows for a natural atmosphere, both in the water and on land.
After your night dive, nothing beats a cocktail 🍹 at the local reggae Kata beach bar!
> Why SSS Phuket ? Why Kata ?
Diversified Marine Life

The different forms of coral illuminate the seabed by their colors, a wide variety of marine species can be seen (turtles, moray etc ...)

Dive Site Depth - 12 Meter Maximum Depth

The dive site provides a gentle access with a depth varying from 2 to 12 meters

Difficulty

Easy, for everyone who is at least 10 years old
> Scuba Diving Kata Beach Program
> Continuing Education
The possibilities for continuing education after discover scuba diving are :