W
reck Diver Specialty
Whether purpose-sunk as an artificial reef for scuba divers, or lost as the result of an accident, wrecks are fascinating windows to the past. Ships, airplanes and even cars are fascinating to explore and usually teem with aquatic life. Each wreck dive offers a chance for discovery, potentially unlocking a mystery or spying something others have missed. The Wreck Diver Specialty course is popular because it offers rewarding adventures while observing responsible wreck diving practices.
Price I Booking
Wreck Diver Speciality
฿12 500
Wreck Diver Specialty License
Wreck Diver Specialty Manual and Dive Table
Rental of a full set of scuba diving equipment
Instructor (max.4 students to 1 instructor
5 dives to a maximum depth of 30 meters
Taxi boat transfers
Breakfast & Lunch
Snacks, drinks and fresh fruits all day
Book Now
2 Days Course
Booking

Day Trip Itinerary | Wreck Diver Specialty

DAY 1 : Koh Racha Yai
7:30 am – Meeting at your hotel
8:00 am – 9:30 am – Make your way to the island of Phuket with breakfast on board the boat
11:00 am – Hot buffet lunch served on board. Time for some snorkeling and sun bathing after lunch.
13:30 pm – Rest and relax. Enjoy fresh tropical fruit and soft drinks on the way back to Chalong Pier
15:30 pm – Back to Chalong Pier
16:00 pm – Return to Hotel
DAY 2 : King Cruiser
King Cruiser is now a famous recreational dive site. It lies at the depth of 32 meters in an upright position. The tip of King Cruiser lies at 15 meters. Till today, the wreck is still pretty much intact although some parts are corroded.
A recommended way for descent is by using the marine line from the surface. It would take you to the car deck from where you would be able to enter safely. Objects that can be spotted are machinery, engine trolley , picnic tables and tyres.
The wreck is covered by soft coral which houses many varieties of fish. Schools of Trevallies, Yellow Snappers, Barracudas, Tunas, Lionfish and Scorpion fish can be spotted especially at the bow. Turtles, Bamboo sharks, the Giant Whale Sharks may be seen as well.
7:30 am – Meeting at your hotel
8:00 am – 9:30 am – Make your way to the King Cuiser with breakfast on board the boat
11:30 am – Second dive at Shark Point
12:30 pm – Hot Buffet lunch on board, after lunch there is time for snorkeling and sun bathing
13:30 pm – Third dive at Koh Dok Mai
15:30 pm – Back to Chalong Pier
16:00 pm – Return to Hotel
Visited Islands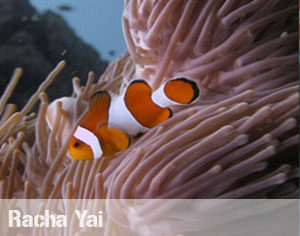 Koh Racha Yai, is the largest of the two islands located off the Southeastern coast of Phuket.
Different kinds of corals can be spotted here with the Staghorn coral predominating in many areas. Marine life is rich and species such as Barracuda, Tuna and Milk Fish can be found in this area.
The better place for diving is located on the East coast along the hard coral reef where there are shipwrecks and good drifts.
There are several interesting dive sites around Koh Racha Yai including Lucy's Reef, Reef "Do little Do" where Stonefish and Batfish may be chanced upon. Not forgetting Marla's mystery, a wreck that became home to Morays, Groupers and Lionfish.
Why Us ? / Why Phuket ?
Great Underwater Visibility

Hard colorful corals, shipwrecks, marine life observation (turtles)

Dive Site Depth - 18 PGM Maximum Depth

5 dives in sites with 40 meters depth

Difficulty

Easy, for everyone who is at least 10 years old
Continuing Education
The possibilities to continue Wreck Diver Specialty are: