Racha Yai Diving - An island for all divers
Racha Yai Diving | 2 to 3 Amazing Dives
In this page, you will learn all about Racha Yai Diving and book your scuba diving trip.
And so much more, let's dive in!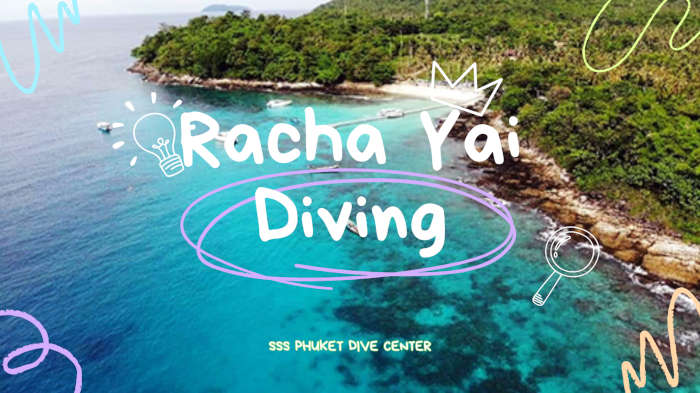 Situated off the coast of Phuket Racha Yai is an absolute haven for scuba diving enthusiasts.
It promises a one-of-a-kind and unforgettable experience for divers of all levels. The island has crystal-clear turquoise waters, coral gardens, and plenty of marine life.
Racha Yai has become a popular destination for scuba diving in Thailand. One of the unique features is its accessibility. A short boat ride from Phuket, this tropical island offers an easy getaway for divers.
Whether you're a novice (booking for beginners at diving here) or an experienced diver, Racha Yai has something to offer everyone.
Depth: 5 – 40 m.
Visibility: 15 – 40 m.
Currents: Easy to moderate.
Water temperature: 27-30 ° C.
Experience Level: Beginner – Experienced
Diving Season: All year.
Racha Yai Diving | For Certified Divers
฿3,700
2/3 Dives (2 for fun divers & 3 for those in training
Complete equipment rental
All meals (Breakfast & Lunch)
Snacks (drinks and fresh fruits)
Taxi Transfers (Rawai-Chalong-Kata-Karon-Patong-Kamala)
Go Pro Camera Rental in Option - THB 700
Book Now
💳 Racha Yai island |
Booking
Fast Process - Fast Booking

> You can also check all our reviews on Trip Advisor
Wonderful experience diving with SSS. The staff is very friendly and helpful. They even managed to make the boat wait for us as we were a bit late. Thanks a lot. All of our diving trips were just perfect and felt save at all time. The packages are probably one of the best in terms of price/quality. Boats are very spacious and provide all services including a great breakfast and lunch meals. 100% recommended !
🗓️ Racha Yai

Scuba Diving

 Itinerary
Day Trip Itinerary | 3 Dives
DIVE 1 : Bay 1 (or Bangalow Bay)
7am – 8am: Hotel Pick Up
Boat leaves at 8am | Breakfast onboard
Arrival at Racha Yai at 10.00am
DIVE 2 : Bay 2 (or Bungalow Bay)
1 pm: Second dive
12pm: Hot Buffet served onboard
DIVE 3 : Racha Yai Homerun (or Bungalow Bay)
2.30pm: Arrival at Racha Yai island
Departure to Chalong pier at 3.30pm
Drop off to hotel at 5pm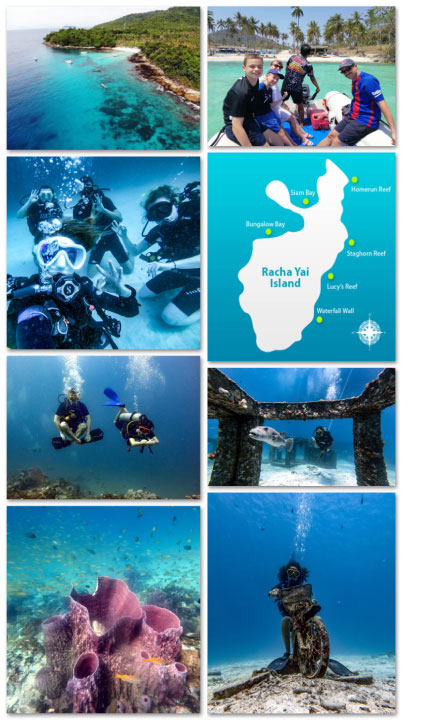 Diving conditions allow all levels. From calm currents for novice participants on a Discover Scuba Diving experience to more technical sites for experienced divers.
Our experienced instructors focus on safety and to find interesting sights.
The picturesque underwater scenes provide endless opportunities for photography and videography.
Adherence to safety protocols and easy accessibility ensures a memorable diving experience for all at Racha Yai.
🏝️ Racha Yai Island
Dive Sites
Bay 1 | Homerun | Bay 3 | Staghorn Reef | Siam Bay | Bungalow Bay
Racha Yai is renowned for its stunning coral reefs in the shallow areas (around 2-8 meters deep).
It provides a variety of marine life such as barracudas, pufferfish, and moray eels. If you pay attention in the sandy spots, you might spot fascinating creatures like flounders, gobies, and Nudibranchs.
If you're up for deeper dives, just follow the white sandy patches to discover famous shipwrecks like the "Harruby," which rests at a depth of 18-25 meters.
You can also explore the recently sunken "Meditation 37 superyacht" in the bay. This region is home to several well-known wrecks and provides a thriving environment for a diverse array of marine species.
Bay 1 (Ao Konkare Bay) Dive Site:
Racha Yai Bay 1 is the first in a series of natural bays and is situated on the eastern side of Racha Yai Island.
The good news is that Bay 1 is just a 90-minute boat ride away from Chalong, making it easily accessible. This bay is a favourite among divers and snorkeling enthusiasts, so you can plan a day trip to Racha Yai Bay 1 almost any day of the week.
The average depth of Racha Yai Bay 1 ranges from 10 to 15 meters, with dive sites varying from 5 to 30 meters. This makes it a versatile location suitable for both beginners and experienced divers.
You'll encounter a range of underwater landscapes, from shallow soft and hard coral reefs to shipwrecks at depths of 15 to 25 meters.
As a result, this dive site is popular among those taking SSI & PADI courses as well as divers looking for a fun and diverse underwater experience.
Homerun Dive Site:
Homerun is located in the smallest of the three bays on the east side of Racha Yai Island. This dive site can be reached by a Phuket dive boat in about 1.5 hours, but it's typically dived on the way back.
Homerun Reef, located in this bay, is a popular choice for the last dive of the day.
It runs along the north side of Racha Yai, taking you back in the direction of Chalong, which is how it got its name. This makes Homerun Reef a perfect local Phuket dive site to conclude your day of diving.
The current at this site can vary from almost none to strong, so it's crucial to pay close attention to your dive briefing and follow the dive plan.
During surface intervals, when you're not diving, Homerun Reef is also a great spot to soak up some sunshine and enjoy lunch.
Underwater, the clear and calm waters of Homerun Reef are ideal for beginners and divers who may not have been in the water for a while.
The reef starts at depths of 3-5 meters depending on the tide and gradually slopes off to sand at around 20 meters. While you won't find many soft corals here, there's a wealth of hard corals, particularly Branch and Staghorn Corals.
Homerun Reef is home to a variety of marine life you'd expect to see. Notably, there's even a small wooden shipwreck near the southern end at 24 meters.
Bay 3 (Ao Lhuk Bay - Lucy's Reef) Dive Site:
Racha Yai Bay 3 is the smallest of the island's three bays, just 90 minutes from Chalong Pier. It's popular for local dive and snorkeling trips, thanks to its shallow corals near the beach.
It's ideal for beginners and those trying scuba diving for the first time, like Discover Scuba Diving participants.
While not the best for diving in Phuket, the bay has diverse reef fish and mainly features hard corals, making it great for an introduction to scuba diving.
Staghorn Reef Dive Site:
Coral bleaching hit this site hard in 2010. It's not frequently dived now, but there are new Staghorn coral patches forming, showing hope for recovery.
It's a favourite spot on Racha Yai for spotting large Pharaoh Cuttlefish and octopus. However, be cautious of strong currents, especially during rising tides.
Divers should watch out, as currents can swiftly carry them into open waters, sometimes for several kilometers.
This site is popular for all SSI & PADI courses and provides a good opportunity to find octopus, cuttlefish, and still has some soft anemone corals.
Siam Bay Dive Site:
Siam Bay, found at the northern end of Racha Yai, is about an hour and a half away by boat. The bay has rocky sides, a sandy middle, and patches of hard coral, including big coral formations and lovely staghorn coral.
Now, here's something unique: Siam Bay is the only dive site in the world where you're guaranteed to dive with elephants. But don't worry, these elephants are made of stone!
In 2006, some clever folks sank these life-sized, concrete elephants, along with a temple gate and a mythical giant called Yak.
They did this to make scuba diving near Phuket even more exciting. And guess what? Divers from all over the world have had a blast exploring this underwater temple.
It's become quite a memorable dive spot!
Bungalow Bay Dive Site:
Bungalow Bay, located on the northwest side of Racha Yai Island, gets its name from being close to Ban Raya Resort, which is about 1 km away.
Even though you can't dive from the resort itself, this spot is not to be missed.
It's a beautiful bay with a classic Thai west coast beach, boasting a long stretch of white sand and clear blue waters.
The bay has a gentle curve, and the best coral formations lie along both sides. This makes it perfect for not just scuba diving but also popular among snorkelers and day-trippers.
You might even spot some luxury sailboats gently anchored around the bay.
When you dive at Bungalow Bay, you can explore two areas: the North Wall and South Wall. The site is so expansive that it's divided into these two sections.
The northern side has a sloping reef with Staghorn corals and picturesque boulders, gradually dropping to about 25 meters deep.
The southern side is similar in topography but shallower. Both are ideal for beginner divers and those taking various SSI & PADI courses.
Racha Yai Seasons
Koh Racha Yai (Wiki Travel) as soon as divers set foot on Racha Yai, they are welcomed by a mesmerizing underwater world bursting with life. The pristine coral gardens host a stunning variety of vibrant fish, sea turtles, and other marine creatures.
What makes Racha Yai particularly attractive for divers is its suitability for divers of all levels. Whether you're a beginner or an advanced diver, Racha Yai offers a variety of dive sites that cater to different skill levels. From gentle sloping reefs to wall dives, there is something for everyone to enjoy.
Moreover, Racha Yai boasts excellent visibility throughout the year. The warm waters and favorable weather conditions make Racha Yai an ideal diving destination year-round. Descend into Racha Yai's depths and be captivated by vibrant marine life.
Swim with tropical fish, marvel at coral formations, and spot various marine life. Racha Yai offers an awe-inspiring scuba diving experience. Whether you're a seasoned diver or a novice, Racha Yai is the perfect destination for an unforgettable diving experience.
Why Choose Racha Yai for Diving?
Racha Yai is a scuba diving paradise with abundant marine life thriving in its crystal-clear waters. From colorful fish to majestic sea turtles, the underwater world of Racha Yai offers an immersive experience for divers.
Swimming among these fragile and beautiful ecosystems is a remarkable experience. Racha Yai is suitable for divers of all levels, offering dive sites for beginners and advanced divers.
Novices can practice on gentle sloping reefs and shallow wrecks. Experienced divers can explore wall dives, underwater rock formations, and deeper wrecks. The versatility of Racha Yai ensures there is something for everyone, regardless of their experience.
Best Times for Diving at Racha Yai
When planning a diving trip to Racha Yai, it's important to consider the seasonal variations.
Diving is possible year-round in Racha Yai. There are certain times that offer optimal conditions for specific diving preferences. The high season in Racha Yai falls between November and April.
The weather is generally sunny with calm seas. During this time, divers can expect excellent visibility, warm waters, and a wide variety of marine life. The calm conditions make it ideal for all levels of divers, from beginners to advanced. To explore the vibrant coral gardens and encounter smaller marine life, the months of November to January are recommended.
During this time, the reefs are at their most colorful and the marine life is abundant. Divers can expect to encounter a wide variety of tropical fish, seahorses, and colorful nudibranchs.
Consider visiting Racha Yai during the shoulder season (May to October) for quieter diving. Although the weather can be unpredictable, the diving conditions can still be favorable. 
We strongly advise utilizing Winduru Phuket or Windy.app for an accurate weather forecast.
Increased plankton activity may slightly reduce visibility. It can also attract larger marine species. The best time to visit Racha Yai for diving depends on your personal preferences and priorities.
Check with SSS Phuket Dive Center and consult with experienced divers. You will get the most up-to-date information on diving conditions. Racha Yai is a must-visit destination for any diving enthusiast.
So pack your gear, plan your trip, and get ready for an unforgettable underwater adventure in Racha Yai.
Racha Yai Diving Packages
Racha Yai offers various diving packages for all levels of divers, from beginners to experienced.
Discover Scuba Diving Package: This package is for beginners who want to experience the thrill of scuba diving for the first time. You'll learn the basics of scuba diving and do two dives in the crystal-clear waters of Racha Yai, accompanied by a qualified instructor. All the necessary equipment, including wetsuits, masks, fins, and tanks, will be provided.
Fun Diving Package: This package is ideal for certified divers who want to explore the wonders of Racha Yai's underwater world. It includes many dives at different dive sites. Experienced guides will be with you on each dive. They will ensure your safety and point out interesting marine species and features.
The package includes all necessary equipment, including tanks, weights, and dive computers. All diving packages in Racha Yai adhere to strict safety standards to ensure a safe and enjoyable diving experience. The equipment selected and maintained. The guides are experienced in handling various diving scenarios. Safety briefings are conducted before each dive.
Emergency procedures
All is in place to ensure your well-being at all times. So whether you're a beginner, an experienced diver, Racha Yai offers a range of diving packages to suit your preferences. Choose your preferred diving package and get ready for an unforgettable diving adventure in Racha Yai.
Safety is of utmost importance when it comes to scuba diving in Racha Yai. SSS Phuket instructors focus on the safety and well-being of their divers. It will ensure that they have a safe and enjoyable experience underwater. One of the key safety measures in Racha Yai is the adherence to strict diving protocols.
Before each dive, divers are given comprehensive safety briefings. It covers important information such as dive site conditions and emergency procedures.
In the event of any scuba diving incident in Phuket, we have the SSS recompression chamber that is available at all times. Your safety is our top priority.
Book your diving adventure in Racha Yai. Contact our friendly team of dive experts. You can inquire, reserve and receive guidance on the best diving package for your preferences and skill level.
Why SSS Phuket for Racha Yai Diving