SSS Phuket Dive and Surf Center
---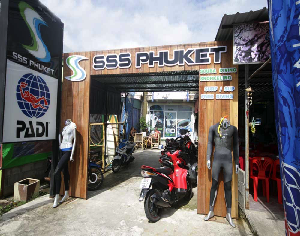 ---
SSS Phuket Front Entrance
---
Right on the main road of Kata Beach, our training facility is easily recognizable with it's arch and its two long flags
---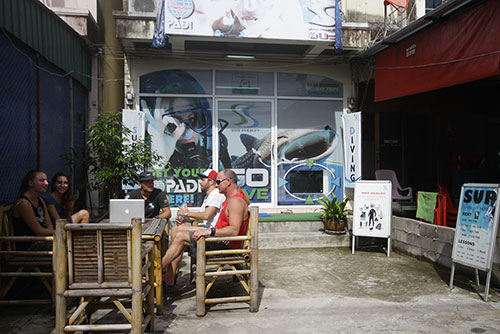 ---
Dive and Surf Center
---
Inside our store, you will be able to see all the equipment we use for training such as Scuba Diving, Freediving, Snorkeling gear, SUP boards and item for sales.
We Foster Education
Meet our enthusiastic, friendly and qualified instructors at SSS Phuket. Our reputation relies on our steadfast pursuit of improvements to enhance our customers' experience. We are looking from new ways to share the passion for the water activities with others. Water activities are not just recreational for us as we believe that it develops holistically a person .
---
We Pursue Excellence
At SSS Phuket, our commitment relies on providing top quality service at affordable prices for our customers.
We use only high quality equipment which have been tested for their durability and reliability. These high quality materials include those for diving, surfing, stand up paddling, free-diving and snorkeling. Having strong skills in time management and organisation, SSS Phuket handles unforeseen situations in the best way possible.
Last but not least SSS Phuket keeps on receiving excellent reviews on TripAdvisor since its creation.
We Promote Honesty
We do our best to cater for the needs of our customers. The water activities' world is our passion and the SSS Phuket's team take pride in sharing those activities with our customers. You can be sure to back home with unforgettable memories and experiences. About 90% of our courses, excursion and training are "all inclusive" package. We try our best to be as transparent as possible in order to avoid any confusion.
---
We Create Fun
SSS Phuket strives to be best mainly thanks to years of experience in scuba diving, surfing, stand-up paddle, snorkeling and free-diving.
We also invest in the newest technologies so that our customers would be able to capture amazing moments. But that is not all, our instructors are equipped with an audiovisual set so that you will be able to have photos and videos in 2D or 3D.
01

From 8am to 6pm you can talk to us directly  using our Live Chat just right there at the bottom left of your screen 🙂

02

From 7am to 10pm you can call us using our SSS Phuket hotline +66 (0) 895 869 920

03

At your own pace, you can use our booking platform available for every courses, training and excursion page of our website. Booking and payment are made immediately.

04

Last but not least, if you need more information or clarifications, you can use the form in our contact page. We will answer you in less than 6 hours.
01

We are open 7 days a week all year round. Anytime, you will be able to do Scuba Diving, Snorkeling, Surfing, Stand-Up Paddle and Freediving.

02

As our schedule could be tight during your holidays, we need to confirm bookings. To do so you can use the online booking platform on our website. We can also send you an electronic invoice accounting for 20%, payable by credit card or paypal.

03

On any training and courses, one of our instructors will take care of you. We will assess your needs and skills first in order to provide you the most efficient teaching.

04

For any cancellation prior 5pm the day before the excursion, we give a 100% refund.