G
o further with your freediving skills with the Molchanovs Freediving Wave 2 Phuket! The Molchanovs Freediver Phuket Wave 2 course is catered to freedivers who would like to refine, improve and further their competences in freediving.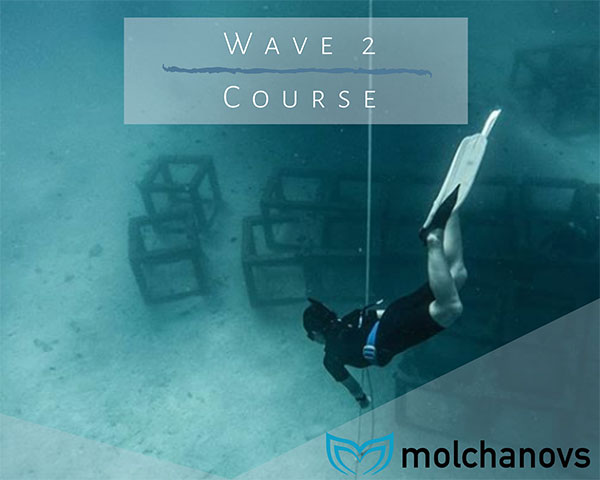 Lap 2 : ADVANCED POOL FREEDIVING
Lap 2 is a course of the Molchanov organization. In this course you will be able to train the specific elements of your body, which contributes to better performance in the pool. Topics include introduction to dolphin kicking, finless control, deconcentration and much more. The duration of the course is usually 2 days.
After completing the Lap 2, you can take the depth component to move on to the Wave 2.
Continuing from the first level, you would have managed static apnea that lasts 90 seconds and 20 meters for dynamic apnea.
Wave 2 :
Now, the target for the Molchanovs Freediving Phuket Wave 2 Course would be to complete these objective with an additional challenge : to dive to a depth of 24 to 30 meters (90 seconds minimum)
Topics include breathing modifications, improving Frenzel's equalization, introduction to dolphin kicking and much more. The duration of the course is usually 3 days.
At SSS Phuket, we offer you the possibility to discover a whole new underwater experience.
Molchanovs Freediving Wave 2
Molchanovs Freediver Wave 2
฿12 900
Molchanovs Freediving Wave 2 Certification
Molchanovs Instructor Fee
Boat Trip Transfer

(Chalong/Kata/Karon/Kamala/Rawai/Patong)

Freediving Equipment
Breakfast-Lunch on the boat trip
Snack, drinks, fresh fruits served all day
Insurance
Book Now
Day Trip Itinerary
4 Days Course
Molchanovs Freediving Wave 2 | Booking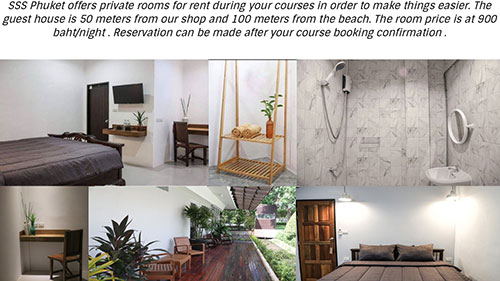 Days Trip Itinerary
DAY 1 : Pool Session
8:30 am – 1 pm: Meeting at SSS Phuket – Training static apnea and dynamic in a swimming pool
DAY 2 : Kata Reef
8:30 am – 1 pm: Meeting at SSS Phuket – Training in Open Water at Kata Reef
DAY 3 : Racha Yai Day Trip
7:30 am – Meeting at your hotel
8:00 am – 9:30 am – Welcome aboard! Breakfast is provided on the way
10:00 am – First dive constant weight
12:00 am – Hot buffet lunch served on board. Time for some snorkeling and sun bathing after lunch.
13:00 pm – Second dive constant weight
15:00pm – Rest and relax. Enjoy fresh tropical fruit and soft drinks on the way back to Chalong Pier
15:30pm – Back to Chalong Pier
16:00pm – Return to Hotel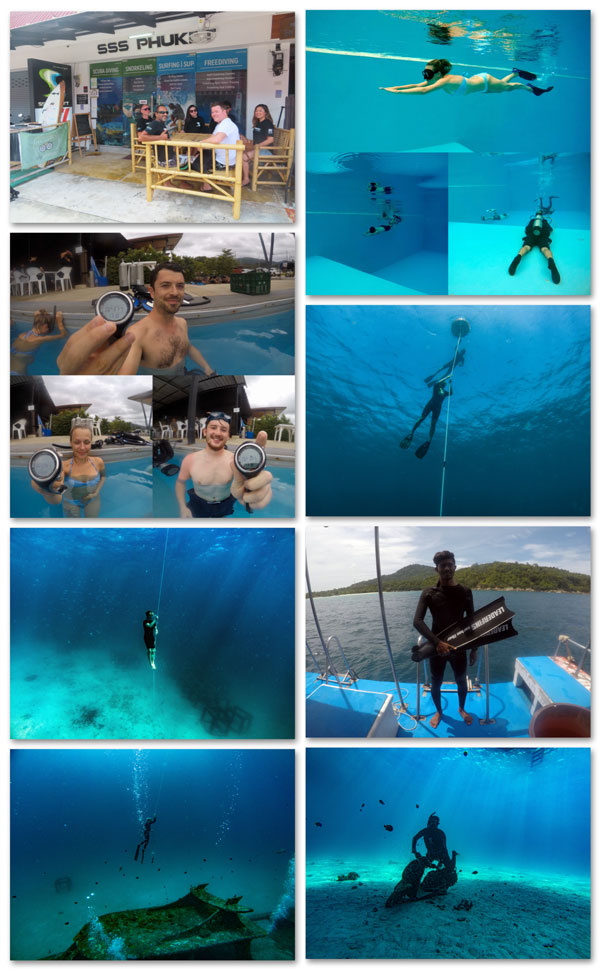 Visited Islands with Molchanovs Freediving
Koh Racha Yai, is the largest of the two islands located off the Southeastern coast of Phuket.
Different kinds of corals can be spotted here with the Staghorn coral predominating in many areas. Marine life is rich and species such as Barracuda, Tuna and Milk Fish can be found in this area.
The better place for diving is located on the East coast along the hard coral reef where there are shipwrecks and good drifts.
There are several interesting dive sites around Koh Racha Yai including Lucy's Reef, Reef "Do little Do" where Stonefish and Batfish may be chanced upon. Not forgetting Marla's mystery, a wreck that became home to Morays, Groupers and Lionfish.
Why Us ? / Why Phuket ?
Amazing Pool Facilities

Very big and quiet pool on Kata Hill

Experienced Freediving Teachers

They have a many years of teaching, professional and fun!

The Very First and Genuine Freediving Center in Phuket

More than a decade of freediving training in Phuket
Molchanovs Freediving
The Molchanovs Freediving Wave 2 course comprises of 3 main phases:
> Methods and essential information of advanced freediving techniques namely:
Relaxation ans stretching – How to prepare your body and your mind to dive into deep. Stretching is very important so you can prepare your body to face the pressure. The relaxation methods you will learn are directly inspired by yoga, focused on breathing. 

Breathing Techniques – You will continue to learn breathing techniques to improve your breath hold time. You will feel your lungs and improve their capacity to dive longer.

Nutrition – You will learn about the best diet to have if you want to continue going deeper and deeper. It's very important to know which food / drink can make you improve your apnea time. 

Equipement – You will discover new equipments that will secure you and help you to dive easily. 
Continuing Education
The next steps to continue after the Molchanovs Freediving course are :
Molchanovs Freediving Lap 3 | Wave 3
Molchanovs Freediving Wave 4