K
oh Doc Mai is shaped like a flower from an aerial view, thus the origin of its name – " Flower Island". Beneath the surface is a visual paradise where walls are totally carpeted by soft corals, harps, sea fans, anemones, sponges and more.
Koh Dok Mai is a little limestone islet and the dive site is a wall dive to 25 meters in the East while the western side consist mainly of rocky and hard coral reef.
On the Eastern side, caves can be found. It would be perfect for buoyancy control practice during the PADI Advanced Open Water or any PADI Specialty course.
Dive everyday at the best dive sites in Phuket of your choice ! All year round, we can plan and personalize your dive trips according to your travel plans
Racha Yai | Racha Noi | King Cruiser | Koh Phi Phi
Price I Booking
Koh Dok Mai Day trip
฿3 900
SSS Phuket Instructor
3 Dives to a Maximum Depth of 25 meters
Scuba Equipment
Breakfast and Lunch
Snacks, Fresh Water
Taxi Transfers (Chalong, Kata, Karon, Patong) and Insurance
Book Now
Booking

Day Trip Itinerary | Koh Doc Mai
8:00 am – Meeting at your hotel and make your way to the King Cuiser with breakfast on board the boat
9:30 am – First Dive at King Cruiser Wreck
10:30 am – One hour surface interval
11:30 am – Second dive at Shark Point
12:30 pm – Hot Buffet lunch on board, after lunch there is time for snorkeling and sun bathing
13:30 pm – Third dive at Koh Dok Mai
15:30 pm – Back to Chalong Pier
17:00 pm – Return to Hotel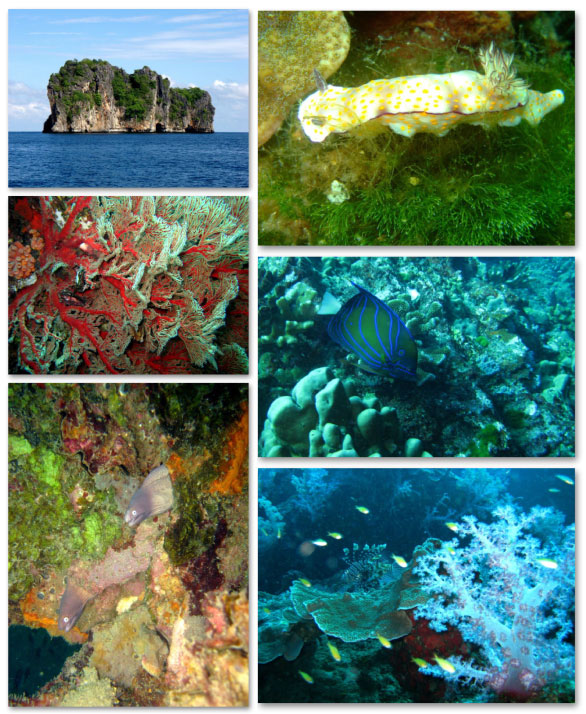 Why Us ? / Why Phuket ?
Great Underwater Visibility

Hard colorful corals, shipwrecks, marine life observation (turtles)

Dive Site Depth - 18 PGM Maximum Depth

5 dives in sites with 40 meters depth

Difficulty

Easy, for everyone who is at least 10 years old
Koh Doc Mai is a one of the popular dive sites where diversified flora and fauna can be found. An amazing variety of marine life is awaiting discovery. You would be able to find shrimps, pipefish, ghost pipefish and seahorse in cracks and crevices.
Hidden amidst the corals are the white eye, giant, Honeycomb moray eels as well as the different schools of reef fish.
Another highlight of Koh Doc Mai are the two big caves that can be found on the eastern part of the island. With a torch, you would be able to see the spectacular limestone architecture.
Koh Doc Mai is a delight for macro lovers. Nudibranches are everywhere. Crustaceans such as crabs and lobsters can also be spotted. In addition to the list mentioned earlier, Pelagic fish, big Trevallies and Barracudas can be seen around hunting.
Look close enough into the cracks and spot the Bamboo Shark resting motionless there. Otherwise, should you be lucky, you may cross paths with a whale shark! koh dok mai.
What to Bring ?
– Beach towel
– Swimwear
– Camera
– Shorts & light T-Shirt
– Cap/Hat
– Sun glasses
– Sunblock
Koh Doc Mai Highlights:
Depth: 5 – 30 m.
Visibilité: 7 – 25 m.
Currents: Strong.
Water temperature: 27-30 ° C.
Experience Level: Open water divers.
Diving Season: All year.