Dive everyday at the best dive sites in Phuket of your choice ! All year round, we can plan and personalize your dive trips according to your travel plans
Racha Yai | Racha Noi | King Cruiser |

Koh Phi Ph

i
A
nemone Reef had gotten its name from the huge amount of green, blue and red anemones that cushion the pinnacle from the surface to 18 meters in depth. In Thai, it is called "Hin Jom" which means submerged rock.
The anemones house the Anemone fish and the Clownfish which protects them from predators. This reef is clearly a magnificent dive site especially when the visibility is good.
This dive site is suitable for certified divers and advanced courses such as the PADI Advanced Open Water and any PADI Specialty course.
Underwater visibility
HIGHLIGHTS
POINT OF INTEREST
DIVE SITE SHALLOWEST DEPTH
Dive site deepest depth
NUMBER OF DIVES
Difficulty
CURRENT
For Whom
Day Trip Itinerary | Anemone Reef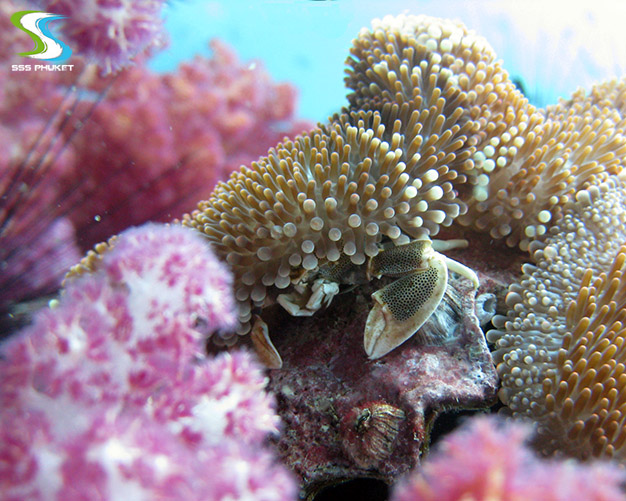 8:00am – Pick up at the hotel and proceed to Chalong Pier. Transfer to dive boat and Welcome aboard! Breakfast is provided on the way to the first dive site.
9:30 am – First dive at King Cruiser Wreck.
10:30am – One hour surface interval.
11:30am – Second dive at Shark Point.
12:30pm – Hot buffet lunch on board. After lunch there is time for snorkeling and sun bathing
1:45pm – Third dive at King Cruiser Wreck
2:45pm: Rest and Relax. Enjoy fresh tropical fruit and soft drinks on the way back to Chalong pier
4:00pm – Back to Chalong Pier 4:30pm – Return to hotel
The dive would commence by descending to the bottom of the pinnacle at around 18-22 meters in depth.
The pinnacle is covered largely by anemones, large sea fans and sponges.
Large schools of Tuna, Fusiliers and other Trevallies can be seen hunting around the pinnacle. Resident giant, white eyeand honeycomb moray eels can also be spotted. The Bearded Scorpionfish and Lionfish are frequently hovering around.
Look closely enough in the cracks and crevices and you can find the Ghost Pipefish and the Tigertail sea horse. In the shallower waters, you would be able to see the popular western Clownfish "Nemo" and enjoy the beauty of the "Tomato" Clownfish.
The Anemone Reef is located next to Shark Point where Leopard Sharks and Hawksbill turtles reside.
What to Bring ?
– Beach towel
– Swimwear
– Camera
– Shorts & light T-Shirt
– Cap/Hat
– Sun glasses
– Sunblock
Anemone Reef Highlights:
Number of islands: 2.
Depth: 5 – 25 m.
Visibility: Great.
Currents: Moderate.
Water temperature: 27-30 ° C.
Experience Level: Beginner – Intermediate.
Diving Season: All year.
Anemone Reef Day Trip
All Included
THB3900
with private guide
PADI Instructor Fee
2 Dives to a Maximum Depth of 25 meters
Scuba Equipment
Breakfast and lunch
Snacks, Fresh Water
Taxi Transfers (Chalong, Kata, Karon, Patong) and Insurance
PADI Certificate
Payment and Booking