Project Aware Specialty is to mobilize scuba divers who care about underwater world and want to protect it. You will learn how you can help and make a difference.
Price I Booking
Project Aware
฿9 900
Project Aware Specialty License
Project Aware Specialty Manuel and Dive Table
Rental of a full set of scuba diving equipment
Instructor (max.4 students to 1 instructor)
5 dives to a maximum depth of 30 meters
Taxi boat transfers
Breakfast & Lunch
Snacks, drinks and fresh fruits all day
Book Now
Booking

Day Trip Itinerary | Project Aware Specialty

Koh Racha Yai is the biggest island in the south-east of Phuket. There is different types of corals such as Acropora Cervicornis coral.The underwater life is rich and there is a lot of species such as barracuda, tuna and Milkfish. Discover amazing diving sites such as Lucy reef, Do Little do reef and the mystery of Marla, home of the Moray eels.
7:30 am – Pick-up at your hotel
8:00 am – 9:30 am – Let's go to Koh Racha Yai with breakfast on board.
10:00am to 11:00am – First Dive
11:00 am – 12:30pm – Hot buffet lunch on board. After lunch there is time for snorkeling and sun bathing
12:30 pm – 13:30 pm – Second Dive
13:45 pm- 15:30 pm – Back to Chalong Pier
3:30 pm – Arrival at Chalong.
4:00 pm – Back to your hotel.
Visited Islands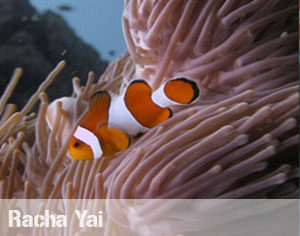 Koh Racha Yai, is the largest of the two islands located off the Southeastern coast of Phuket.
Different kinds of corals can be spotted here with the Staghorn coral predominating in many areas. Marine life is rich and species such as Barracuda, Tuna and Milk Fish can be found in this area.
The better place for diving is located on the East coast along the hard coral reef where there are shipwrecks and good drifts.
There are several interesting dive sites around Koh Racha Yai including Lucy's Reef, Reef "Do little Do" where Stonefish and Batfish may be chanced upon. Not forgetting Marla's mystery, a wreck that became home to Morays, Groupers and Lionfish.
Why Us ? / Why Phuket ?
Great Underwater Visibility

Hard colorful corals, shipwrecks, marine life observation (turtles)

Dive Site Depth - 18 PGM Maximum Depth

5 dives in sites with 40 meters depth

Difficulty

Easy, for everyone who is at least 10 years old
Program Project Aware Specialty

Continuing Education
The possibilities to continue Project Aware Specialty are: