On the 4th May 1997, the King Cruiser, a car ferry sank indeed the ferry was navigating between Phuket and Phi Phi island when it hit the underwater pinnacle of the Anemone Reef.
Price I Booking
King Cruiser Wreck
฿3 900
3 Dives to a Maximum Depth of 30 meters
Scuba Equipment
Insurance
Breakfast & Lunch
Snacks, Soft drink and Fresh fruit all day
Taxi round trip to your hotel (Chalong, Kata, Karon, Patong)

Note that this trip is recommended to experienced divers with an advanced licence minimum

Book Now
Booking

Our customer review on this activity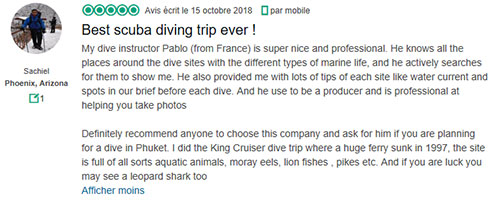 What to Bring ?
– Beach towel
– Swimwear
– Camera
– Shorts & light T-Shirt
– Cap/Hat
– Sun glasses
– Sunblock
Day Trip Itinerary | King Cruiser Wreck
7:30 am – Pick up at your hotel
9:30 am – First Dive at King Cruiser Wreck
10:30 am – One hour surface interval
11:30 am – Second dive at Shark Point
12:30 pm – Hot Buffet lunch on board, after lunch there is time for snorkeling and sun bathing
13:30 pm – Third dive at Koh Dok Mai
15:30 pm – Back to Chalong Pier
16:00 pm – Return to Hotel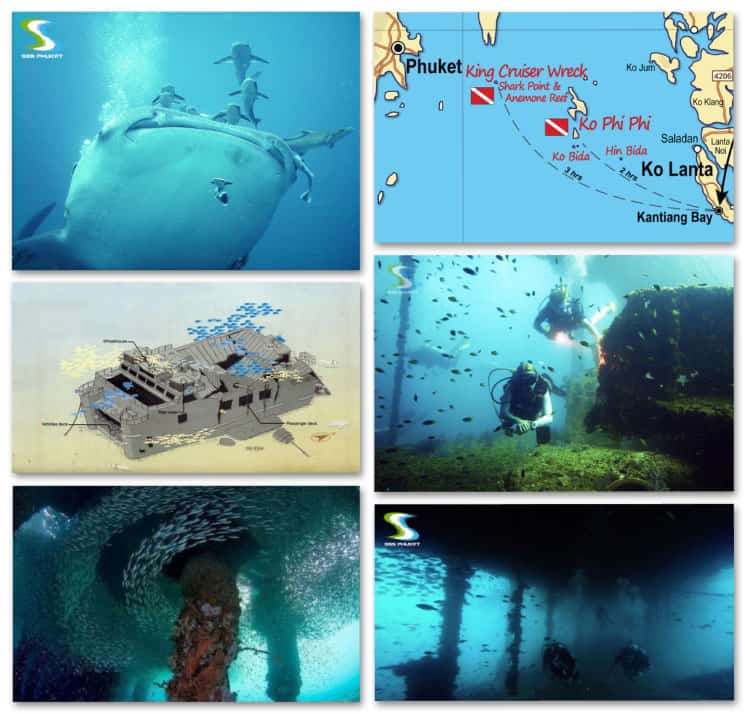 Years after the incident, King Cruiser Wreck has became a wonderful diving spot, King Cruiser Diving. This dive site is suitable for certified divers as the wreck is located at a 35m depth.
Thus if you would like to enjoy this dive site, you can take up the PADI Advanced Open Water and PADI Specialty courses at the King Cruiser Wreck. The simplest and the safest point of entry is through the vessels's stern where divers can explore the once active car decks moreover there are still machinery sitting on the deck.
The King Cruiser Wreck would offer you marine life delights such as the lionfish, nudibranch and sometimes if you are lucky enough, turtles.
This car ferry wreck is now a famous recreational dive site. It lies at the depth of 32 meters in an upright position. The tip of King Cruiser Wreck lies at 15 meters. Till today, the wreck is still pretty much intact although some parts are corroded.
A recommended way for descent is by using the marine line from the surface. It would take you to the car deck from where you would be able to enter safely. Objects that can be spotted are machinery, engine trolley , picnic tables and tyres.
King Cruiser Wreck is covered by soft coral which houses many varieties of fish. Schools of Trevallies, Yellow Snappers, Barracudas, Tunas, Lionfish and Scorpion fish can be spotted especially at the bow. Turtles, Bamboo sharks, the Giant Whale Sharks may be seen as well. In addition, macro lovers would be very pleased as the King Cruiser Wreck is a paradise for nudibranches.
Why Us ? / Why Phuket ?
SSS Phuket "Know-How"

The owner is a Master Scuba Diver Instructor with 5,000+ dives and understand divers needs. You will be with one of our experienced and friendly SSS Phuket dive instructors.s, shipwrecks, marine life observation (turtles)

No Big Dive Group

We keep small size dive group, SSS Phuket dive guides are dive instructors and will assess your needs prior dive briefings

King Cruiser | 85 meters long Shipwreck

The wreck is covered with corals and big school of fish