Phuket SUP Lesson can be done in different ways and environments. It is easy and fun for everyone.  It last 1h30min and after your lesson you can also hire stand up paddle board.
You can use the stand up paddle board for :
Surf
Explore surroundings
To race
Fitness
To go down rivers
To do windsurfing
Phuket SUP Price | Booking
One Day 1H30
฿1 500
per person
Complete equipment rental
Surf Monitor
Book Now
One Day 3H00
฿2 800
per person
Complete equipment rental
Surf Monitor
Book Now
Two Days 3H00
฿2 800
per person
Complete equipment rental
Surf Monitor
Book Now
Two Days 6H00
฿4 500
per person
Complete equipment rental
Surf Monitor
Book Now
Booking

Our Customers Thoughts On Our Phuket SUP Lessons

Your Stand Up Paddle lessons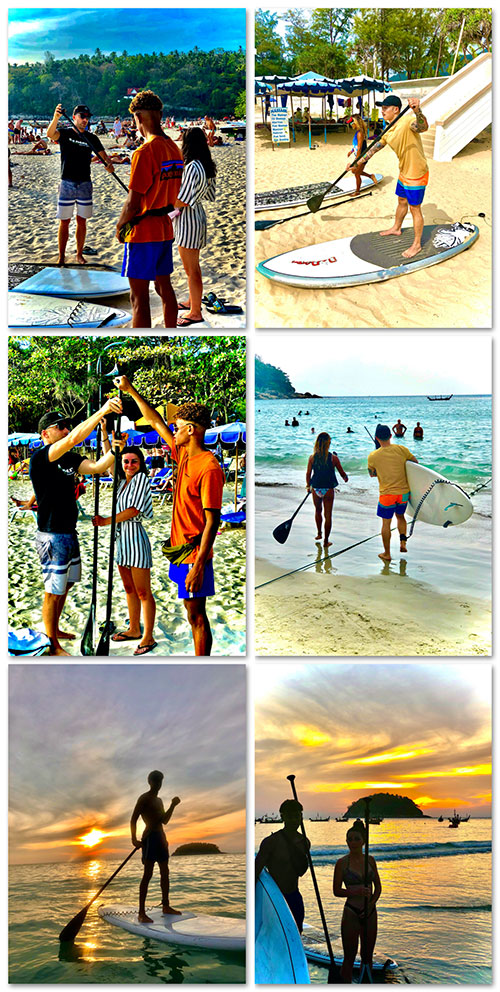 Stand up paddle boarding is one of the best full-body workouts. SUP Fitness can burn more calories in an hour than most sports because of the combination of strength, balance, core and endurance. Whether you are surfing, racing or recreational paddling, you will get in shape in no time.
If you want to enjoy Stand Up Paddle lessons with our instructor, do not hesitate to contact us before or on Facebook. We will be able to give you information about the weather. In fact, we have to make sure that the suitable conditions will be present the day of your lesson of stand up paddle. Currents do not have to be too strong. We also welcome you directly in our shop.
Once your Stand Up Paddle lessons scheduled, we will met each other at the SSS Phuket' shop. You will be asked to organize by yourself your mean of transportation to reach this place. On the other hand, we will be in charge of taking your board to Kata Beach. Then, you will be in our instructor's hands. During your Stand Up Paddle lessons, the instructor will assure the success of your course, according to your own capabilities. The instructor will teach you the basis of the discipline.
Our one hour and half Phuket SUP course will give you the basis of the discipline. Our instructor will teach you how to stand on your SUP during a 15 minutes briefing on the beach, before actually going into water. You will soon feel at ease with your board. You will then be able to visit the Kata Beach bay and its wonderful landscape. If currents allow it, you might have a chance to bypass the Koh Pu island, symbolic attraction of Kata Beach.
At the end of your course, nothing could be more simple as we deal with the board. You just have to relax yourself and enjoy the Andaman Sea's delights!
> For surfing and Phuket SUP courses:
SSS Phuket is responsible for the equipment used during the training. If the equipment is broken during the lesson, SSS Phuket will assume any repair work.
If the student injure himself during the lesson, SSS Phuket and coaches will not be responsible, the student must use his own insurance to cover medical fees.
The different boards
The stand-up paddle can be use in different activities, different board exist for to answer to need :
– Board « Short » SUP are to intended at the practice of surf.
– Board « Cruiser », winch more tall, allows to move around on the still water.
– Board « racing » are like Kayaking, for to obtain a good resistance, and high performance speed.
– Board « whitewater » are to intended to go down rapids, and to go to in shallow waters. These boards have more volume than the touring boards ensuring more stability.
– Inflatable boards to permit to easily transport, you would be able to bring it anywhere with you. A practice of stand up paddle more secure
Why Us ? / Why Phuket ?
It's easy

Select the board and paddle that suits you.

It's Fitness

As good as a cardio workout!

It's fun

Easy, for everyone! Up on the board with the paddle in hand and sliding along clear water.