Koh Racha Yai, is the largest of the two islands located off the Southeastern coast of Phuket.
This scuba eden has gained its reputation with its beautiful clear waters and white sand beaches. You would be able to discover the rich marine life by snorkeling during the day or over several days. Wide variety of flora and fauna can be seen with good underwater visibility.
Price | Reservation
Racha Yai Private Speedboat
฿20 000
Scuba Diving Option THB 2000 extra per person
Experienced Tour Guide
Full Set of Rental Snorkeling Equipment (Mask, Snorkel, Finsand Life Jacket)
Snacks, Soft drink and Fresh fruit all day
Rent
an underwater camera
for 1,000 THB and take home with you the
wonderful memories
from your snorkeling trip. You would be able to
take photos and videos to the depth of up to 30 meters
. We would either burn the photos in a disc or save it in your memory card for you! Please feel free to
ask us for more information.
Book Now
Day Trip Itinerary
Booking

Our Customers Thoughts on Snorkeling Racha Yai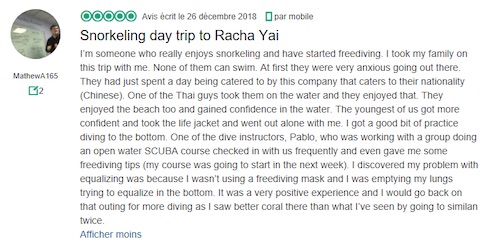 Day Trip Itinerary | Racha Yai Snorkeling Private
7:30 am – Meeting at your hotel or meeting at Chalong Pier
8.00 am - Grab a coffee, fruit juices, cookies with your guide and depart to  Racha yai island on your speedboat.

9:00 am - Arrival at Racha Yai island at the stunning Bungalow bay for snorkeling/sunbathing on an empty beach!

10.00 am - Take a walk around the island and discover some wild beaches to enjoy more snorkeling. You may have a chance to catch a glimpse of wild species such as buffalos, monitor lizards and eagles.
12.00 pm - Relaxing lunch on the beach at Siam bay. You will have a possibility to have a widespread of seafood buffet for just an extra charge of 600 THB
1.30 pm - Snorkel at the best Racha Yai dive spot, Bay 1.
3pm - Head back to Chalong pier
3.30 pm - Head back to Chalong pier
4pm - Head back to your hotel
We would be able to customize your trip according to your needs
Racha Yai Snorkeling Day Trip.
Koh Racha Yai is the bigger of the two islands located at the South-east of Phuket.
You would be able to find different types of coral, like the deer horn coral ( Acropora cervicornis) which is found in many zones.
Also you would be able to spot marine species like barracuda, tuna and the milkfish.
Discover the incredible dive sites Lucy, "Do little Do" and the mysterious Marla wreck which are homes to moray eels, scorpion fish and grouper.
The island of Koh Racha Yai is an ideal destination for snorkeling or diving excursions. Thanks to SSS Phuket, you would be able to organize your snorkeling excursion individually, as a group or as an exclusive private group.
Koh Racha islands (also know as Ko Raya) are divided in two islands, Koh Racha Yai and Ko Racha Noi. Often described as twins, they are located southeast of Phuket and are available by speedboat in just 30 minutes, come and discover them with Racha Yai Snorkeling Private.
Koh Racha Yai also has tourist facilities where you would be able to find restaurants and hotels for different budgets.
Koh Racha Yai Highlights
Time from Chalong Bay: 30 min.
Number of islands: 2.
Depth: 4 – 40 m.
Visibility: 12 – 30 m.
Currents: Low.
Water temperature: 27-30 ° C.
Experience Level: Beginner – Intermediate.
Number of dive sites: 12.
Diving Season: All year.
Distance: 30 km east of Phuket.
What to bring?
- Beach towel
- Swimwear
- Camera
- Shorts & light T-Shirt
- Cap/Hat
- Sun glasses
- Sunblock
Visited Islands
Koh Racha Yai, is the largest of the two islands located off the Southeastern coast of Phuket.
Different kinds of corals can be spotted here with the Staghorn coral predominating in many areas. Marine life is rich and species such as Barracuda, Tuna and Milk Fish can be found in this area.
The better place for diving is located on the East coast along the hard coral reef where there are shipwrecks and good drifts.
There are several interesting dive sites around Koh Racha Yai including Lucy's Reef, Reef "Do little Do" where Stonefish and Batfish may be chanced upon. Not forgetting Marla's mystery, a wreck that became home to Morays, Groupers and Lionfish.
Why Us ? / Why Phuket ?
Great Underwater Visibility

Hard colorful corals, shipwrecks, marine life observation (turtles)

Dive Site Depth - 18 PGM Maximum Depth

4 dives in sites with 40 meters depth

Difficulty

Easy, for everyone who is at least 15 years old