Discover the Shark Point Day Trip ! Dive everyday at the best dive sites in Phuket of your choice ! All year round, we can plan and personalize your dive trips
Racha Yai | Racha Noi | King Cruiser |

Koh Phi Ph

i
T
he tiny pinnacle of Hin Musang is located 25km east of Phuket. Hin Musang means " Asian Palm Civet Rock". Beneath the surface is where many treasures of the ocean are waiting to be discovered.
Underwater visibility
HIGHLIGHTS
POINT OF INTEREST
DIVE SITE SHALLOWEST DEPTH
Dive site deepest depth
NUMBER OF DIVES
Difficulty
CURRENT
For Whom
Recently, this island has been renamed "Shark Point" because of the Leopard and Bamboo Sharks residing in this area. During your Shark Point Day Trip, you would be able to admire them at the seabed. They are sleeping on the white sand. Shark Point Day Trip is indeed on of the best diving spots in the Phi Phi archipelago. People who are looking to meet sharks would definitely be thrilled.
This site is made up of a 22m depth giant rocky hill with diversified marine life like scorpion fish, butterfly fish, Pufferfish and angelfish. Shark point is located near the Anemone Reef and the King Cruiser, two of the other major diving places.
"Shark Point 1" is the only pinnacle that is visible from the surface. The tips of "Shark Point 2" and "Shark Point 3" is around 5 meters and 10 meters respectively beneath the surface.
It is possible to visit all 3 pinnacles within a day during your Shark Point Day Trip. However to be sure that you would not miss any facets of this dive site, it would be better to spread the dive out over several days.
One of big highlights of Shark Point is of course to see the Leopard Sharks. Furthermore, you can enjoy the myriad of marine life.
Just to name a few species, turtles, the Tigertail Sea Horse, Ornated Ghost Pipefish, octopus, cuttlefish, the popular Western clown fish " Nemo" and the Tomato clown fish are what you can look forward to see. Huge and diverse schools of fish are frequently seen circling around the the pinnacles amidst the beautiful corals.
Itinerary | Shark Point Day Trip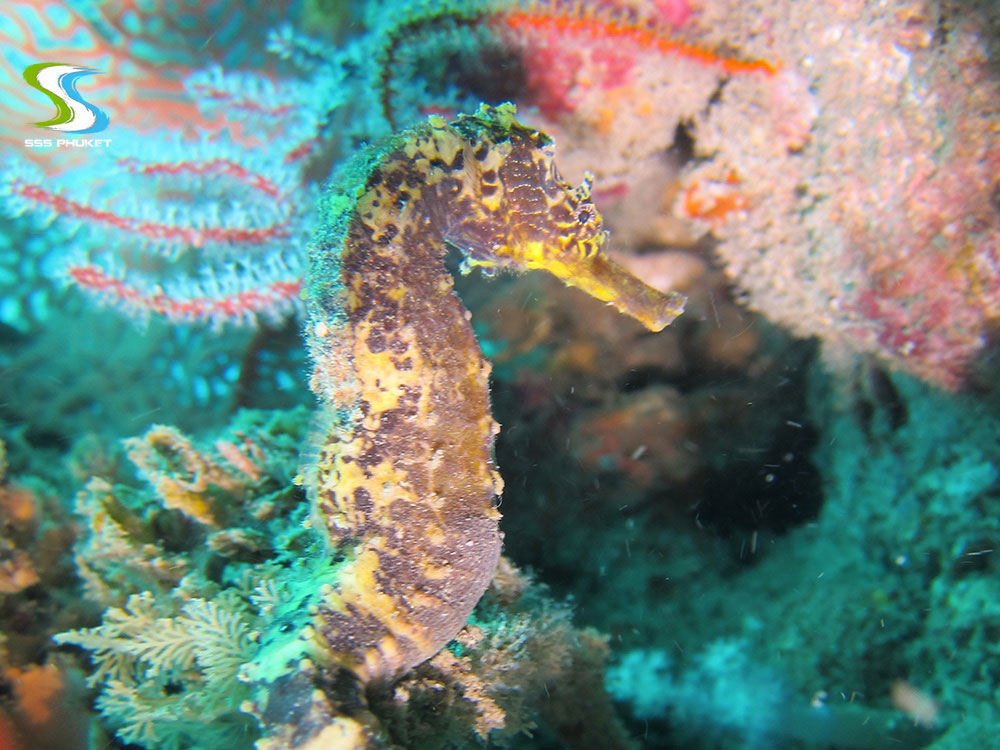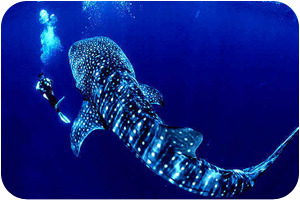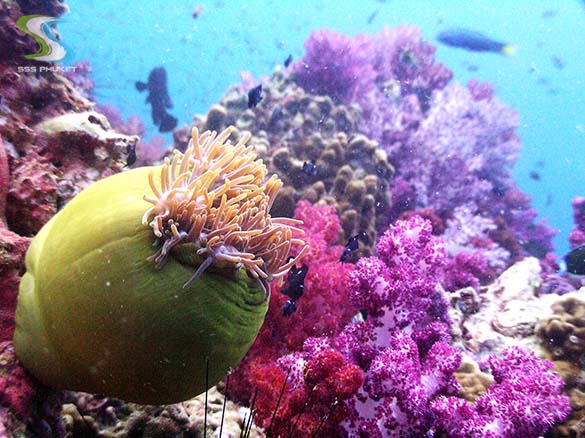 8:00am – Pick up at the hotel and transfer to Chalong Pier
9:00am – Welcome aboard! Breakfast is provided on the way
9:30am – First dive at King Cruiser Wreck. Racha Yai Island
11:30am: Second dive at Shark Point.
12:30pm: Hot buffet lunch on board. After lunch there is time for snorkeling and sun bathing
1:45pm: Third dive at Koh Dok Mai.y fresh tropical fruit and soft drinks on the way back to Chalong pier
2:45pm: Rest and Relax. Enjoy fresh tropical fruit and soft drinks on the way back to Chalong pier
4:00pm: Back to Chalong Pier 4:30pm: Return to hotel
What to Bring ?
– Beach towel
– Swimwear
– Camera
– Shorts & light T-Shirt
– Cap/Hat
– Sun glasses
– Sunblock
Shark Point Day Trip Highlights:
Depth: 7 – 25 m.
Visibility: 12 – 30 m.
Currents: Strong.
Water temperature: 27-30 ° C.
Experience Level: Open water divers
Diving Season: All year.
Shark Point Day trip
All Included
THB3900
with private guide
PADI Instructor Fee
2 Dives to a Maximum Depth of 30 meters
Scuba Equipment
Taxi Transfers (Chalong, Kata, Karon, Patong)
Breakfast & Lunch
Snacks, Soft drink and Fresh fruit all day
Insurance
Payment and Booking