T

he SSI/ PADI Open Water Phuket certification is the ticket for a lifetime of diving adventures and is the most popular diving entry level.
✔️
 

2 or 3 days course

 (3 options for everyone needs)
✔️ For Everyone
 

(minimum 10 years old)
✔️ Lifetime certification to 18 meters (recognize by any dive centers worldwide)
> Open Water Phuket | 3 Options
BUDGET
฿9 900


1 Theory Exam Pool


4 Dives Kata Reef


2 Days Course (during high season and when sea condition allows)
PREMIUM
฿13 900


1 Theory Exam Pool


5 to 6 Boat Dives

(6 dives for Advanced package)



Book Now
3 Days Course
We recommend to go with the SSI Open Water course for several reason (excellent online material, diver app and customer service)
Both SSI and PADI are equally recognize around the world. If the diver wants to go with the PADI certification, the diver will be charge THB 1,200. The main reason is that PADI requires high fees for certification.
> If you wish to have an extra day at the swimming pool to practice diving skills we will charge THB 2000.
> If you want to have an extra day in Open Water we will charge THB 3900
> Booking | Open Water Course Phuket

> Our customer review on this activity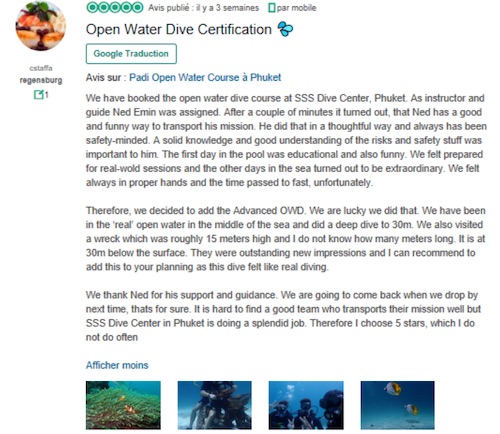 > Why Us ? / Why Phuket ?
SSS Phuket "Know-How"

The owner is a Master Scuba Diver Instructor with 5,000+ dives and understand divers needs. You will be with one of our experienced and friendly SSS Phuket dive instructors.s, shipwrecks, marine life observation (turtles)

Private Instructor

For more than 1 person you will get a private instructor

Racha Yai | Great Underwater Visibility

Hard colorful corals, shipwrecks, marine life observation, weak current, easy diving
> Visited Islands | In Depth
Koh Racha Yai is the largest of the two islands 🏝️🏝️ located off the Southeastern coast of Phuket.
Different kinds of corals can be spotted here with the Staghorn coral 🌿 predominating in many areas. You will find all common tropical fish 🐠 right at the beginning of your dive.
The marine life is rich and species 🐡 such as Barracuda, Tuna 🐟 and Milk Fish are usual sights.
While it may be awesome to already discover the rich marine life in Racha Yai while snorkeling, diving would lead you into a whole new underwater experience. Amongst the varieties of marine life that you would be able to see, get ready to spot the hidden scorpion fish waiting to prey!
Moreover the better place for diving is located on the East coast along the hard coral reef where there are shipwrecks 🛳️ and good drifts.
Many dive sites around Koh Racha Yai including Lucy's Reef, Reef "Do little Do" where Stonefish and Batfish 🦇 may be chanced upon. Also not forgetting Marla's mystery, a wreck that became home to morays , groupers and lionfish.
On the northern end of the island, you can find two beautiful little bays. They are  known for their deep clear waters and the colorful coral formations.
Note that bigger can be found around Racha Yai such as turtles 🐢, leopard sharks 🦈 and manta rays but as they are not sedentary species they may or may not be there. We often spot dolphins swimming by the boat 🐬!
This scuba eden has gained its reputation for its beautiful clear waters and white sandy beaches 🏖️. In fact being renowned for its great visibility while diving even during the different seasons, nothing beats learning how to dive in Racha Yai.
> Open Water Phuket Program
You will learn the proper techniques to scuba dive and to breathe underwater.
During the Phuket open water course, you will have at least 5 pool sessions (combined) and minimum 4 dives at local dive sites and/or boat trip dive site under the supervision one of our SSS Phuket Instructor.
> Continuing Education
The possibilities for the continuation of Open Water Phuket course are:
---
Adventure Diver course (Extension for 1 more day to obtain the license for depth of 30 meters)