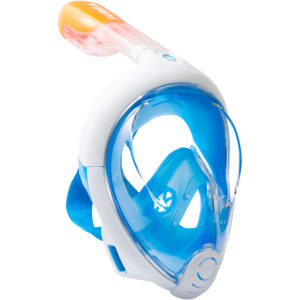 In general, people says that snorkeling is difficult and presents many disadvantages. In fact, they are right. You always have water entering the snorkel, fog into your mask and it's uncomfortable to breathe through the mouth.
Fortunately, the French brand "Decathlon" created an innovative fullface mask to avoid these problems. If you are beginner in diving, Easybreath Phuket is the simplest way to practice snorkeling.
If you buy this mask, you will be perfectly equipped for our different dives proposed by our center in Koh Phi Phi, Racha Yai and Similan Island. If you want more informations about Easybreath, you can check the Decathlon video.
Easybreath Phuket full face mask
SUBEA EASYBREATH
฿1690
DELIVERY INCLUDED (Kata, Kata Noi, Karon, Rawai, Patong)
Easy to use
Breath with the nose
Panoramic field of vision
Book Now
Included in the mask
INCLUDED


Skirt 100% silicone

Easybreath



Frame

Easybreath



Tube

Easybreath

Phuket



Lens

Easy breath

Phuket



Color Blue and pink

Easybreath



Anti fogging system

Easybreath



Anatomic design

Easybreath

ko

Phuket



Water drainage

Easybreath

Phuket



Delivery to your accommodation

Easybreath

Phuket



Easy breathing


Easy dressing


Easybreath Phuket | Buy Now
Free delivery*

With Easybreath Phuket, it's never been easier to discover seabed.
The full face mask offers you a large visibility with a 180 degrees field of vision and the possibility to breathe with the nose like on land. The customer can adjust the mask with the elastic strap.
Moreover, it allows to eliminate the fog thanks to the double air-flow system. The majority of customers who tried this product recommend him.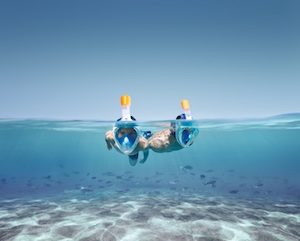 Decathlon Thailand wants to making snorkeling accessible for everyone. There are 2 sizes : S/M and M/L who cover 90 % of faces sizes of people aged over 10.
This mask costs 1690 THB, which is affordable. It is guaranteed 2 years. You can use your Easybreath Phuket on the different snorkeling sites like Racha Yai for exemple.
However, the Easybreath is not suitable for deep dives because it was conceived just for underwater snorkelling.
You want to discover underwater as you never did in Phuket's island? It's now possible thanks to Easybreath Phuket available on SSS Phuket store in Kata.
*Free delivery for Chalong, Kata, Karon, Patong
Why Us ? / Why Phuket ?
Dive Center renowned

We tested the product for you

Located at Kata Beach

Shop near the beach ( 100 m )

Difficulty

Easy, for everyone who is at least 10 years old