The AIDA 4 Stars course is organazed by The International Association for Development of Apnea. It is an organization of freedivers (PADI). The AIDA courses are certified free-diving courses from beginner levels to advanced levels. You can discover freediving at your own pace: as a beginner or  go further in advancing your skills. At SSS Phuket, we offer you the possibility to discover a whole new underwater experience. An experience that you never had before and that will improve all your futur snokeling sessions.
Moreover, if you want to keep improving your freediving skills, you can check our formations Apnea Academy  and Freediving Training on our website.
Underwater visibility
HIGHLIGHTS
PRICING ADULT
ALL INCLUDED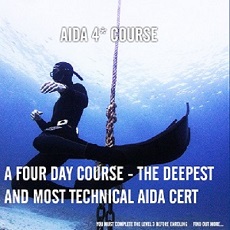 AIDA 4 Stars
AIDA 4 Stars course will introduce you to the world of advanced freediving Phuket. The latest techniques for deep freediving Phuket, conditioning of your body and planning your training sessions are the main subjects. This AIDA 4 Stars course will push you to the limits of your Freediving abilities. All that in the safest possible way.
AIDA 4 Stars is the highest level a recreational freediver can be rewarded with. This course consists of three theory sessions, two pool sessions and four open water dives.
In order to complete this very last level, you will have to:
perform a three minutes and thirty seconds breathold.
swim seventy meters underwater with fins.
dive until thirty-two meters in open water.
BOOKING

Continuing Education
The possibilities for the continuation of AIDA 4 Stars are :