Snorkeling, this uncommon leisure which interests more and more during travels. Here is the 5 good reasons to learn how to snorkel and to try this discipline.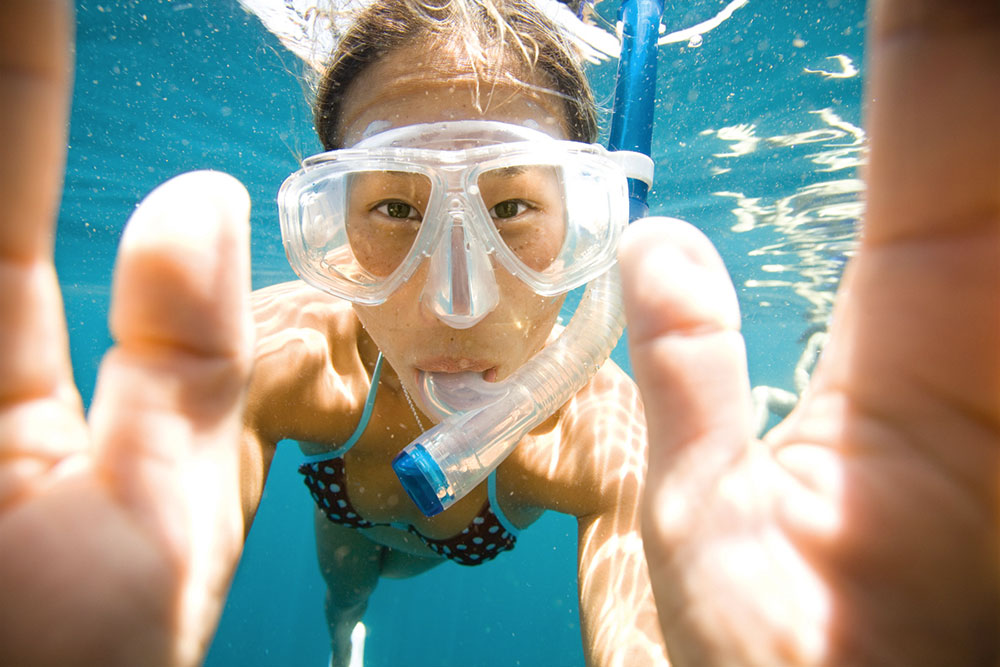 A snorkeler taking picture during a session of snorkeling in waters of Racha Rai Island.
Snorkeling
Snorkeling is an underwater stroll which requires little equipment. It does not ask for particular effort, the main purpose being to discover seabed. The swimming can be made on surface as on short snorkelings to approach as closely as possible some marine species.
It is often recognized as a holidays activity, when we take advantage to be at the water's edge and under the sun, while decompressing.
So, find here the 5 good reasons to learn how to snorkel.
The 5 good reasons to learn how to Snorkel
•Its attractive price
To practice snorkeling, the necessary equipment consists only of:
A mask
, to have a good underwater view
A snorkel
, to breathe having the head under the water
Flippers
, to move better under the water
With this set, it is possible to explore seabed.
If you are close to Phuket in Thaïlande,
SSS Phuket
proposed the rental of the complete equipment for 200 Baht.
In the case where you are interested by a snorkeling excursion all included on
Koh Phi Phi
Island,
SSS Phuket
also offers this service for 2500 Baht per adult,
reservable online
.
•Simplicity
The unique request to practice snorkeling is
to know how to swim
. And even in case where you are not a good swimmer, there is always the possibility to practice by only making the board on the surface of the water.
So, the snorkeling can be practised by almost everyone. To enjoy in family or between friends, it is a friendly moment to discover the environment.
•Observe seabed
There is many places of practice. The most important is to find a clear and shallow water to contemplate the submarine
flora and fauna
. The exotic places still remain the most appreciated thanks to their rich and colored nature.
•Sport
Actually, by practising the aquatic hike with flippers, it allows at first
to strengthen your abs
but too
to sculpt your legs
and
to work your breath
. It is a very good method to have more cardio.
•Relaxation
Snorkeling is a synonym of
relaxation
. Indeed, it is a moment far from everything. The only thing to do is to appreciate the beauty and diversity of the aquatic flora and fauna. It is a means to forget the routine and to have good holidays.
We do not nevertheless find the same sensations than in diving which allows to go in the depths and to approach the more closer species. However, snorkeling can be a taste of the diving, which would be the logical continuation.
Advice
It is advisable to practice snorkeling with a dive center which will accompany you on the best sites, while taking care your safety.
We must not forget to bring sunscreen and a tee-shirt.
About the destination of your snorkeling travel, you have the choice. By knowing that Asia, expecially in Thailand, is very deemed for its paradisiac places, mainly thanks to Koh Phi Phi Island where it is possible to start snorkeling: you will find various fish species of all colors… SSS Phuket offers different services of snorkeling in Thailand where you will could discover the most beautiful places.
You already know the good reasons to learn how to snorkel, the only thing left to do is try!
Article inspired of http://www.snorkeling-report.com/