Surfing in the Olympics in 10 years? It will be closer than never. Why not, tomorrow see surfers carry the Olympic Flame and dispute the gold medal in artificial waves 2m Seems … It is Tempting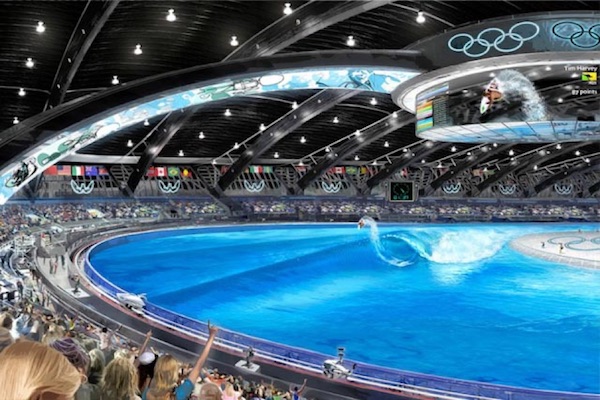 The new wave pool may be present at 2024 Olympics …
Several attempts to participate
The International Surfing Association (ISA) will submit once again its request to participate in the Olympics 2024. Indeed, an application was submitted for the Olympics in 2016 and 2020. However, at that time surfing was not retained . Mainly because of technological deficiencies surrounding the creation of artificial waves .
Why can we expect to see surfing in the Olympics Games in 2024
Growing sport
Fernando Aguerre , President of the ISA is convinced surfing in the Olympics will be one day possible. Indeed , surfing has unique assets such as performance, the universality of his practice , youth and its growing global industry, who bring enthusiasm, fun and value to the Olympic Games .
The ISA has today one hundred member countries in the world . His growing popularity in recent years on new territories shows that surfing is a universal sport that can be practiced everywhere and by everyone. Surfing in the Olympics will be great.
If you also want to discover this sport so covets, please visit our website. Indeed, SSS Phuket offers surf lessons for all levels in the paradisiacal beaches of Thailand.
The WaveGarden

But the real revolution that could change the future of surfing in the Olympics is the wave pool . This new technology called Wavegarden give the possibility to surf anywhere and not just on the seas and oceans. The wave pool with a wave of two meters and a length of 120 meters will soon generate waves of 6 feet every 60 seconds . The Wavegarden is cost effective, low power consumption at all that you need as a space , and it's a perfect wave . This is something that can be duplicated anywhere in the world and can make possible surfing in the Olympics. A strong argument , since it is among others the difficulty of producing waves of quality and cost that pushed the IOC to reset the surf for the 2020 Olympics.
Article inspired by Surfsession.com