The Stand Up Paddle for rent in Phuket, is available 7 days out of 7, the price includes delivery around Phuket.
Connector.

It's easy

Select the board and paddle that suits you. But If you prefer, it's possible to take a SUP lesson.

Connector.

It's Fun

Up on the board with the paddle in hand, gliding above clear waters, be awed by what you may see from your perch! Above the reef of Kata beach, you would be able to spot various fish and corals.

Connector.

It's Fitness:

Excellent as a cardio workout, the stand-up paddle is an activity to help you define your silhouette focussing on back and shoulder muscles. In addition, you could pace yourself while paddling. This would improve your stamina, endurance and natural balance.

Connector.

It's Convivial:

An activity you can choose to do alone or with your friends and family. You could even place a person in front on the light board. Good moments shared while having a good workout !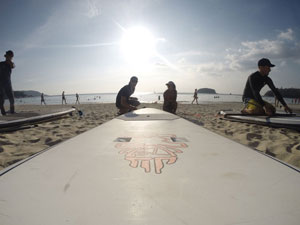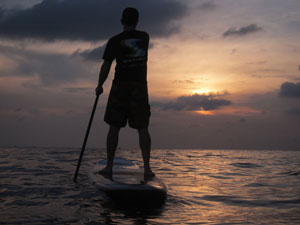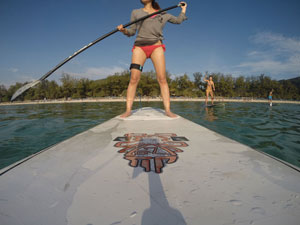 Advantages of the stand-up paddle: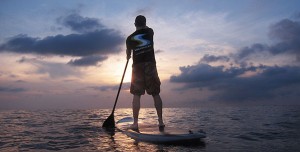 It's a all-new way to slide on the sea that stand up paddle board rental offers you. Standing constantly on a board with a paddle gives you many advantages. First of all you can anticipate the waves coming at you as you have a larger field of vision than on a surfboard or longboard. It is also way easier to take a wave with this kind of board.
The speed is higher thanks to the strength you gain with you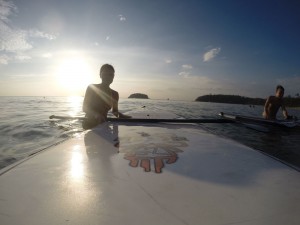 r paddle and the board itself. But you can also practice without waves. Even on an oily sea you can still enjoy this sport, it will help you work on each muscles of your body. You'll like this experience, SSS Phuket can guarantee it ! Our enterprise offers stand up paddle for rent in Phuket, but if you prefer, we can give you a lesson to have the technic.
You can practice stand up paddle on open water, in the waves, in a lac and also in rivers.
5 good reasons to choose SSS Phuket to do Stand Up Paddle
Connector.

SSS Phuket have Starboard stand up paddle board

SSS Phuket offers starboard stand up paddle board. Bards of quality, and reputed in the field of stand up paddle.

Connector.

SSS Phuket offers the SUP hire for only 400 bahts. During 2 hours you will take advantage of this moment.

Connector.

Board deliver on all Phuket Island

SSS Phuket delivers the stand up paddle on all Phuket island, so you can enjoy beautiful landscapes on your board

Connector.

Discover Kata Beach coral reef during your first lesson

For beginners, the stand up paddle lessons are proposed at the Kata Beach coral reef , equipped with mask and snorkel , to end the coursewith the great discover of beautiful submarine fauna and flora.

Connector.

Association of stand up paddle and free diving at Koh pu

Our dive center, proposes an assocation between the discipline of the stand up paddle and free diving. Indeed it is possible to go to the famous island of koh Pu with the stand up paddle starboard, to practise there then the free diving, with one of our instructor of free diving. An unforgettable experience.
---