Walking on the water, it's possible ! The last stand up paddle created by Hobie, offers a new approach to discipline. With a stand up pedalboard, paddles are removed, you have to move thanks to leg strength.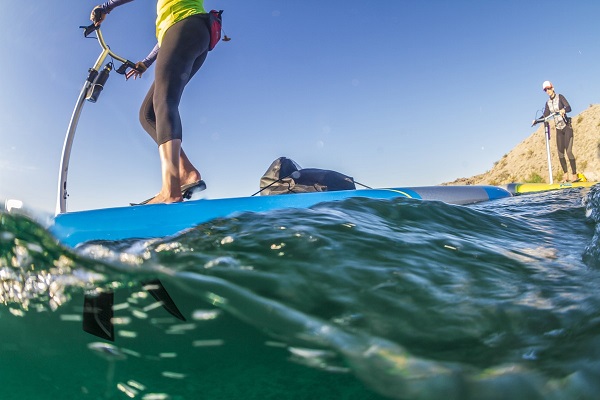 Two tourists are doing Stand Up Pedalboard
The Stand Up Pedalboard according to Hobie
Mirage Eclipse, the new concept of Hobie, is very  surprising. Indeed, the brand changes the way to use a stand up paddle. However, it is not the first time that Hobie has a such idea. Indeed, the company used its famous  pedal system, MirageDrive® on its previous kayak.  This system coupled with a paddleboard changes everything. Indeed, you do not need to use a paddle, it is with your leg strength and helped by a handlebar that you move the board.
Stand Up Pedalboard description
• Characteristic
Hobie proposes two different models of its new stand up pedalboard:
A first model board  10,5′ (3.20 m) which weighs 19.5 kg and it can support 102 kg.
Another model  12′ (3.70 m) which weighs 22 kg and a capacity of 125 kg.
The stability is achieved by a handlebar adjustable between 90 cm and 110 cm.
Note that it is possible to remove a handlebar and to block the pedals . Like this, you can use your board as a normal stand up paddle.
• Easy to manage
It is very easy to use a stand up pedalboard. Indeed, the different problems like synchronisation and difficulties to handle the paddle, do not exist. Thus, everybody can try this new activity. Beginners or sportsmen take pleasure, when they do this sport. Now, there is a new alternative to enjoy nautical activity being on a board, like surf or stand up paddle.
Advice
Do not hesitate to ask further information to a dive center, concerning equipments and the best places to do stand up paddle. 
We have to wear a life jacket to avoid a potential accident.
We must not forget to bring sunscreen and a tee-shirt.
About the destination, Asia, especially in Thailand, is very deemed for its paradisaic places, mainly thanks to Koh Phi Phi Island. Over there, it is possible to do stand up paddle. Moreover, you can take the opportunity to do others activities like snorkeling or scuba diving.
The company SSS Phuket offers different services of nautical activities in Thailand. A good way to discover the most beautiful places.