Find here some advice to well know how to use GoPro knowing optimize colors and contrast during your diving and thus to have unforgettable memories.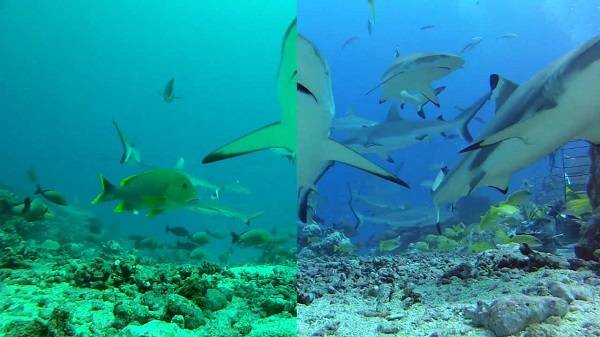 Example from a film with a GoPro during a diving.
GoPro
To do scuba diving is good but when we can keep a memory it is better.
So here is some advice to know how to use a GoPro regarding video recording during your diving knowing optimize colors and contrast.
We choose the camera HD GoPro because it is the best brand on the market and it offers an impressive qualité underwater.
Advice in dive: optimize colors and contrast
•The maintenance of the camera
The most important is the way which you will hold your camera underwater. Actually, it is not always easy to handle it in view of its form of small cube. However, many accessories have emerged. We mainly find the perch, often telescopic, it offers the advantage to film with less shocks and movements. Furthermore, it allows to make "selfies". Available for all budgets, the perch has many advantages to film.
•A blind movie
The last GoPro cameras include screens what is not the case of all the GoPro. However, the screen is rather small, it is thus difficult to look at what we film and to take advantage of the flora and fauna at the same time. It is necessary from certain point of view to film "blindly" before being able to view videos on a computer or television. The centring during the recording is then random but the wide angle which gets this camera often allows us to crop the video if necessary. This accessory is certainly practical but by no means essential.
•The filter
This last accessory is essential for the dive to more than 5 meters deep. Indeed, crossed this depth, the red beams of the sun have difficulty in crossing the water to light the bottom. The video depiction will mainly be blue and green, without any warm colors. It is here that intervenes the red filter.
There are filters for all prices going from 10€ to 120€. It settles directly on the objective and can be removed or add under the water.
•Mode Protune
The mode Protune
remains the best way to
obtain real colors and contrast
. For that purpose, we must to put the GoPro in mode Protune after edition (equivalent of the mode ROW for Cannon Cameras), what allows to get back all the colors and contrasts
natural
in post-production. For us, this mode is the best solution.
If you too wish to capture your most beautiful moments underwater during a baptism of scuba diving, SSS Phuket welcomes you each day to visit the sea bed of the surroundings of Phuket.
Do not hesitate to come to consult our offers!
Be assured that the memories on these dive GoPro trips would be well captured ! Our instructors and Divemasters use GoPro with accessories to compliment each dive.