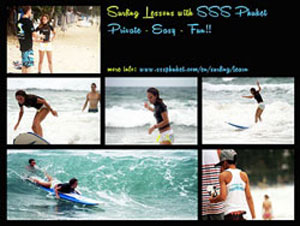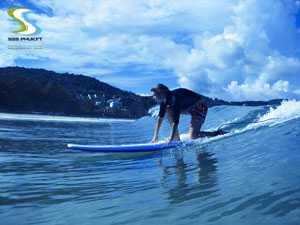 Have a first-hand experience of riding a wave with one of our professional Surf instructors either at Kata or Kata Noi beach to enjoy surfing lessons in Phuket. At SSS Phuket, age is not a limit for us. If you want to learn, we are more than willing to teach you the basic techniques of surfing thanks to our surfing lessons in Phuket. Be ready to pop up on your surfboard on your first surfing lesson Phuket in which after you would be able to rent a surfboard and enjoy the waves on your own !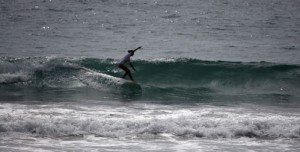 We provide surfboards according to your needs and measurements. Rash guards are optional as the temperature of the water is around 29 degrees all year long.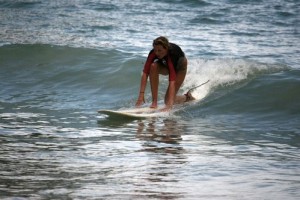 Beginners would learn how to take waves and stand up on the board during their first surfing lesson in Phuket while the more advanced students can improve on their technique. Our surf instructors come from all over the world such as France, New Zealand, Russia, Scotland and of course Thailand. You do not have to worry about any language barriers. The instructors in SSS Phuket are very experienced, qualified, CPR and First Aid Certified. They are all equipped with knowledge about the ocean, current and wave dynamics.
SSS Phuket provides you with professional surfing lesson in Phuket, equipment and an unforgettable experience ! We can organize both private and group surfing lessons Phuket. For advanced surfers, you can rent a surfboard with us to go surfing solo or with your friends.
Drop us an e-mail for more information and schedule a surfing lesson in Phuket today! If the weather does not permit, you could also do a a stand up paddle lesson.
Your surfing lessons
If you want to enjoy surfing lessons with our instructor, do not hesitate to contact us before. We will be able to give you information about the weather. In fact, we have to make sure that the suitable conditions will be present the day of your surfing lessons. Your lesson have to be set up when there are high tidal coefficients, which allow waves. We also welcome you directly in our shop.
Once your surfing lessons scheduled, we will met each other at the SSS Phuket' shop. You will be asked to organize by yourself your mean of transportation to reach this place. On the other hand, we will be in charge of taking your surfboard to Kata Beach. Then, you will be in our instructor's hands. During your surfing lessons, the instructor will assure the success of your lesson, according to your own capabilities. The instructor will teach you the basis of the discipline. You will be able to stand on your board since the first lesson.
Before going into water, our instructor will proceed to a briefing to explain you the basis of the surf. You will then determine which foot will support the most your balance once on your board (right or left – we speak about goofy or regular surfer). After that, you will try to stand on the board on the beach. The aim will be to make you feel confident with your board. You will be able to picture the size of your board and find balance before practicing into the sea. Once in the water, the instructor will help you finding your balance on the board. All along you lesson, the instructor will explain you how to position yourself on the board. He will push you into waves so that you will be able to enjoy soon your first waves. After your first lesson, you will yet be able to enjoy your first waves by yourself.
At the end of your course, nothing could be more simple as we deal with the surfboard. You just have to relax yourself and enjoy the Andaman Sea's delights!
If you are interested in developing even more you abilities in surf, you can also join our SurfCamp to practice surfing for 3/5 or 10 days.
---

Surfing can become very addictive !